Derby County rename stand after longest-serving staff member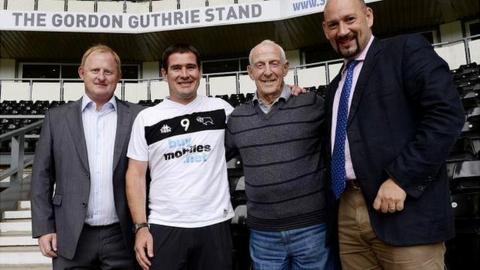 Derby County are to honour the club's longest-serving staff member Gordon Guthrie MBE by renaming the south west corner stand of Pride Park after him.
Guthrie, who started as a reserve team player, continues to work as the club's kit manager six decades on.
The 82-year-old remains involved despite recovering from illness.
Rams manager Nigel Clough told BBC Radio Derby: "It is lovely that after all these years that he is recognised like this."
Guthrie was appointed an MBE in 2009 for services to football and collected the Merit Award from the Derby County Past Players Association in the same year.
He has worked under more than a dozen Derby managers - including Clough's father Brian and Dave Mackay in the glory days of the 1970s when the Rams twice won the First Division title - filling every position from physiotherapist to trainer.
"Derby County has been my life for so long and it's unbelievable to have a stand named after me," Guthrie said. "It's a huge honour and I am very proud."
While illness has kept Guthrie away from the club in recent months, Clough said his players continue to hold him in the highest regard.
"All the ex-players love to see him, but I think the respect he has got from the current crop of players as well says an awful lot," he added.
"It's about time he put his feet up and relaxed a little bit. He shouldn't be worrying too much about the club, even though he still does, he has done more than his fair share over the years."