Cardiff City: How they aim to stay in the Premier League

By Rob Phillips
BBC Wales football correspondent
Last updated on .From the section Football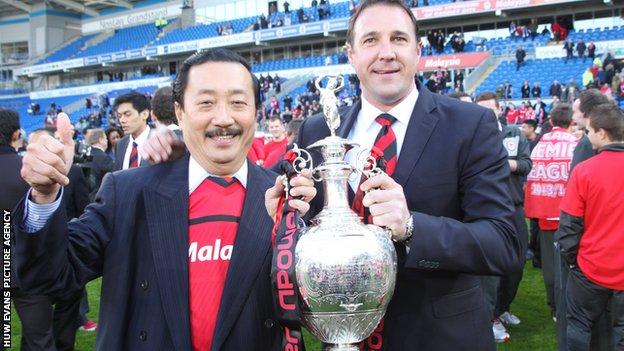 Malky Mackay appears to thrive on the pressure of occupying the manager's hot seat at Cardiff City - which is just as well.
For at the Cardiff City Stadium, pressure is a way of life.
In the summer of 2011 Scotsman Mackay was lured from Watford to a club high on ambition, but down to the bare bones of a squad.
The previous season his predecessor Dave Jones had assembled a talented team using loan deals. At the end of the 2010-11 season those players went back to their clubs, leaving the new manager with few players and little time to build.
In spite of that, Mackay delivered a Carling Cup final and a play-off semi final in that first season.
That success fuelled expectation for the 2012-13 season. And amid much talk of Cardiff's players historically "choking", Mackay's men took over top spot in the Championship in late November - and were never overtaken.
Promotion was achieved with three games to spare and, appropriately, was followed by quite a party.
The fans of this so-called sleeping giant had waited more than half a century to make their way back into the top flight of domestic football. Now the pressure's on to stay there, and here is how they plan to do it:
The transfers
Though he has shown a Midas touch at Cardiff City, Mackay's patient and methodical approach to the transfer market has paid dividends this summer.
He often praises the diligent approach of his recruitment team. And there is no doubt that after what some fans considered a slow start, his sheer persistence has brought its reward.
Three times the club's transfer record has been shattered this summer, thanks to the financial backing of Malaysian tycoon Vincent Tan.
First came Andreas Cornelius at a fee estimated at £7.5m. He was followed by Steven Caulker at £8m and then Sevilla's Chilean international midfielder Gary Medel in a deal worth up to £11m.
The arrival of England international Caulker from Tottenham in particular stunned many, but appears to have been the result of dogged work by Mackay - likewise his successful pursuit of Medel.
''It was someone we felt we were not going to be able to do," admitted Mackay of Medel's arrival.
"We thought he was going to be out of our reach. So we went on to other targets over the summer.
"We had been looking at him for nine months. And eventually when we were able to get it done it really excited me with that level of player coming to Cardiff City."
Medel, known as The Pitbull, has excited the fans, too. He has acquired cult status even before he has been able to ''do the Ayatollah'' - the unique Bluebirds' celebration and a necessity for every player to perform before he is accepted by the faithful.
His arrival has ensured Cardiff have already surpassed the £25m Tan promised to spend this summer. With more signings said to be on the way, Mackay has not lacked financial muscle with which to gatecrash football's elite club.
Finances and fans
Tan's controversial kit colour change from blue to red has alienated some of the club's traditional supporters.
What they cannot deny, however, is the difference Tan's financial backing has made to the club.
The big money signings are one sign of that clout.
Potentially more significant, however, was the settling of the historic debt owed to Swiss-based company Langston and the the deal which led to former chairman Sam Hammam - Langston's spokesman - becoming a life president of Cardiff City.
A pledge to donate £1m every year to local charities also hints at a long-term commitment to the cause by Tan.
The lure to the Asian backers was always the Premier League, and Tan's money has helped make it a reality.
The bedrock of Cardiff's Championship triumph was formidable home form and the same will be true in the Premier League. Making the Cardiff City Stadium a fortress, aided by raucous packed houses, will be essential.
Yet Cardiff also showed a resilience on their travels which brought 10 wins on the road.
The Premier League will inevitably be a step up. But Cardiff seem to have the base of a reasonable financial footing, a squad hungry for success and a manager who has learned to deal with pressure.
The fans have waited 51 years to rub shoulders with the aristocrats of domestic football. Now they have their chance - and the pressure is on to ensure its not just a one-season experience.