Rickie Lambert 'a role model' for lower leagues - John Ward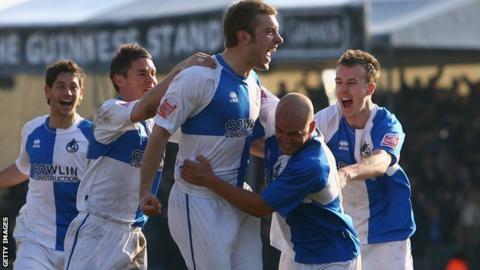 Rickie Lambert's rise from the lower leagues to England international makes him a role model for other players, says Bristol Rovers boss John Ward.
The 31-year-old striker played for Rovers between 2006 and 2009 before making a £1m move to Southampton.
He finished as joint top-scoring Englishman in the Premier League last season before scoring the winner on his England debut against Scotland.
"He's a good example to others - young players particularly," said Ward.
"They tell me when he left here he didn't want to move because he was enjoying it so much. But everyone told him he had to go and make his way in the game.
"He's done that in a big way, even at a late stage.
"It shows you can do it if you stick at it. He's a really hard-working young man and has pushed himself to the highest level now."
Lambert played in the Premier League for the first time last season after a career spent in the lower leagues with Rovers, Rochdale, Stockport, Macclesfield and Blackpool.
Rovers paid £200,000 to Rochdale for Lambert's services in September 2006. He went on to score 59 goals in 155 games for the Pirates, and helped them win promotion to League One in the 2006-07 season.
Since moving to Southampton he has continued to prove his goalscoring ability - netting 103 times in 196 games - and earned his first international call-up.
He said his England debut was a "dream come true" after scoring the winner in Wednesday's 3-2 win at Wembley.
"It's brilliant - the lads are all talking about it," continued Ward. "Phil Kite (physio) texted him straightaway to say well done, and Rickie replied. That's the measure of the man.
"The world and his wife would have wanted to speak to Rickie last night but he found time to come back to one of his old mates at the Gas.
"Although I've never met him in a social context I was delighted for him because everyone here talks so highly of him as a person - let alone a player.
"That speaks volumes of him. He's fantastic so good luck to him."