Guernsey FC boss Tony Vance says players need to be 'ruthless'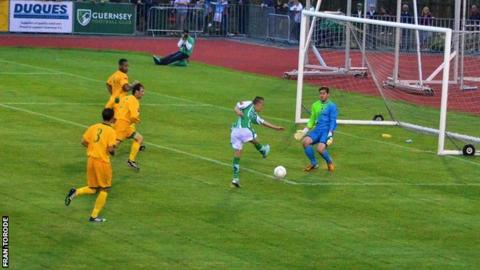 Guernsey FC boss Tony Vance says his team need to be more clinical in front of goal after a 1-0 defeat by Horsham.
The Green Lions' first home game of the season ended in disappointment for most of the 1300-strong Footes Lane crowd.
But Vance was encouraged by the number of chances his team created as they begin their campaign at the highest level they have competed at.
"If we can keep playing like that and be a bit ruthless then we'll win more than we lose," Vance told BBC Guernsey.
"It certainly wasn't for want of trying - we had a good go and created a lot of chances.
"They dominated the first 25 minutes and we were a bit shell-shocked but we changed it and took the game to them and should perhaps have had a couple of goals.
"While they were a very good side, we created seven or eight chances to their two or three but they took their chance, we didn't; they deserve the three points."
Vance said the higher standard of opposition was a real challenge to his players, who have enjoyed two promotions since forming in 2011.
"We know that this is a tough league and the crowd has now seen that this is a real test for us," said Vance.
"It's nothing I'm scared of but we are going to lose some games.
"Saturday will be another tough test - but we need to manage expectations here. We've seen there's no 'gimmes' in this league."
Vance also paid tribute to the Guernsey FC supporters after much of the pre-match attention had focused on whether fans were too polite with their habit of applauding opposition goals and skilful play.
"I thought they were fantastic," he said.
"When you consider the West Show is on and England are playing Scotland, getting 1300 people here is fantastic.
"They made a great noise, the away team brought some supporters over and it was a great atmosphere so I don't know what all the fuss is about to be honest."