Nicky Law ignores critics as Alfreton Town continue to rebuild
Last updated on .From the section Football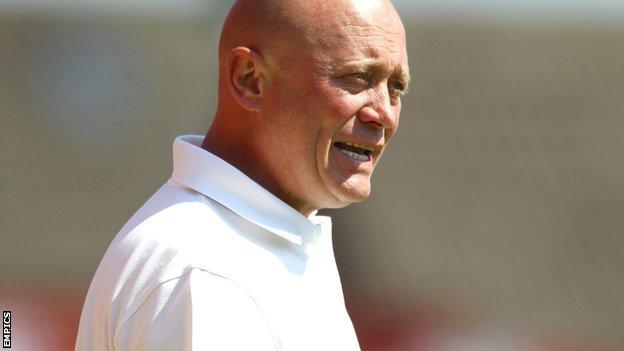 Alfreton Town boss Nicky Law says he is happy with the part-time squad he has rebuilt despite a frustrating summer.
Law then hit back at critics who have questioned his transfer decisions, which includes allowing striker Ben Tomlinson to join Lincoln City.
"That was a situation where that player didn't want to be here," he told BBC Radio Derby.
Law also said that a number of deals fell through late on, including bids to keep midfielder Nathan Arnold and sign striker Matthew Barnes-Homer.
"I hear people moaning that I don't know what I'm doing, but we are trying," Law said.
"We tried to bring Nathan Arnold back, we agreed a deal and he reneged on it the next day and went to Cambridge and signed. And good luck to him, if it is a better deal for him then fair play."
Still, former Portsmouth striker John Akinde and former Aston Villa midfielder John McGrath have both moved to the Impact Arena in the summer.
"We have never really been in the position where we can go out and get the likes of Akinde or John McGrath, and they have come in and made a difference," Law said.
"I'm happy, and I feel we can still improve. If we look to improve the squad by bring more players in then we will possibly be able to do that."