Keshi angered by Saintfiet comments over match venue
By Oluwashina Okeleji
BBC Sport, Durban
Last updated on .From the section Football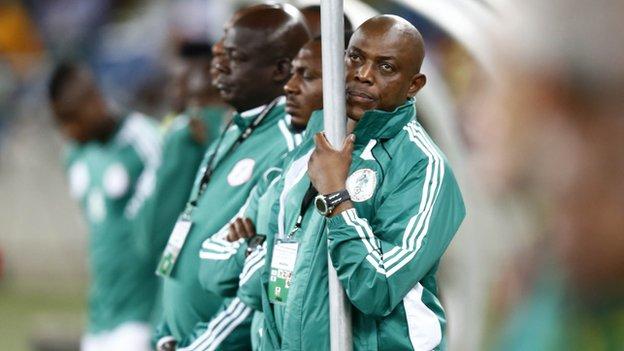 Nigeria coach Stephen Keshi has hit back at the Football Association of Malawi (FAM) over their request to have next month's qualifier switched.
And Belgian coach Tom Saintfiet told local media last week that he is not comfortable with the match being played in the city because he believes it is a security risk.
But his Nigerian counterpart Keshi, whose side lead Malawi by two points in their group, insists the venue for the game should not be changed.
"The Malawi coach cannot tell us where to play our matches," Keshi told BBC Sport. "He can say whatever he likes, that's his own opinion and problem. We have no problem and he is not qualified enough to make that call or request.
"This is where we play our games and other countries are fine with that.
"Someone cannot say to Nigeria to take the game elsewhere because he feels too important.
"Please tell him [Saintfiet] the game will take place in Calabar, he can choose not to come, we have no problem with that."
Following Malawi's request, Fifa asked the Nigeria Football Federation (NFF) to provide a letter of security guarantee from the appropriate authority in Nigeria as well as a detailed security plan for the qualifying match.
And the football authority has issued a press statement explaining that the country's Inspector-General of Police, Mohammed Abubakar has dispatched a detailed security guarantee and comprehensive plan for security for the game.
The letter to Fifa guaranteed that the Nigeria Police "will provide adequate security to ensure a conducive environment before, during and after the match between Nigeria and Malawi scheduled for 7 September at the U. J. Esuene Stadium, Calabar".
The guarantee further explained that apart from routine police lead escorts and back-up vehicles for both teams and match officials from point of arrival to point of departure, all hotels and training grounds to be used would be adequately fortified.
Anti-bomb squads would be also deployed to sweep and maintain all hotels and training pitches; anti-bomb squad would sweep and secure the entire stadium along with Police elite squad (Police Mobile Force/Counter Terrorist Unit).
In addition, adequate security would be provided on match day in the entire vicinity of the stadium and hotels of teams and match officials and; there would be police escorts for teams and match officials to and from stadium on match day, among other measures.