Richard Scudamore says player behaviour has improved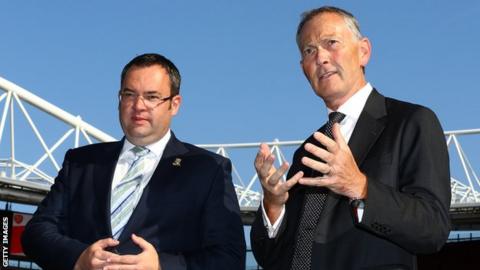 Premier League chief executive Richard Scudamore has insisted the behaviour of players in England's top division has improved but "unsavoury incidents" will never be entirely eradicated.
Scudamore, speaking at the launch of the new Premier League season, also believes his organisation has a "moral responsibility" to be philanthropic given the amount of money it has generated in recent years.
New television rights deals, which cover the next three seasons, have yielded a reported £5.5bn from domestic and foreign broadcasters, a 71% increase on the previous deal. The new deals will contribute to an overall turnover of £1.9bn for the 2013-14 season.
"The success [of the Premier League] allows us to do certain things. It allows us to invest heavily in communities," said Scudamore.
"People will headline our television deals, about the income and about players' wages [but] £290m will be given away this season."
Scudamore, who joined the Premier League as chief executive in 1999, was speaking at Bacon's College in Rotherhithe which has benefited from grants to refurbish its community facilities.
"The League turned over about £124m when I joined. In total it's going to give away £290m this year, keeping Football League clubs going, huge amounts of money going into that and the Football Conference, community schemes, facilities and education schemes," he said.
"We do this because we can. Football has a power that very few other businesses or industries or activities do. We can alter young people's lives considerably by that engagement with football and if you can, you should.
"There's a moral responsibility - we don't have to do it but I think it's right that we do.
The League's chief executive is aware of how individual cases can overshadow this message though.
Chelsea's John Terry and Liverpool's Luis Suarez were separately accused of racial abusing opponents in 2011 and banned.
Suarez then received a 10-match ban after he bit Chelsea defender Branislav Ivanovic in a league game at Anfield in April this year.
Scudamore thinks that, despite these high-profile incidents, the standard of behaviour in the top flight has improved overall.
"When we launched the "Get On With The Game" initiatives six years ago it was about making sure that we could somehow improve behaviour at all levels. We're very pleased with the results from that," he said.
"There wasn't a mass confrontation reported in the Premier League to the FA last year by a match official.
"Bookings for dissent are down, no sendings off for foul and abusive language. There is statistical evidence that behaviour has improved.
"Are we going to eradicate entirely the odd unsavoury incident? No, we're not. Have we reduced the incidence of them? Yes, we have.
"That's important. It's important because it's the right thing - there's no need for it, there's no place for it - but you will undoubtedly see an incident or two next season that nobody is proud of."