Scottish positives from Wembley defeat are not mere platitudes

By Alasdair Lamont
BBC Scotland
Last updated on .From the section Football125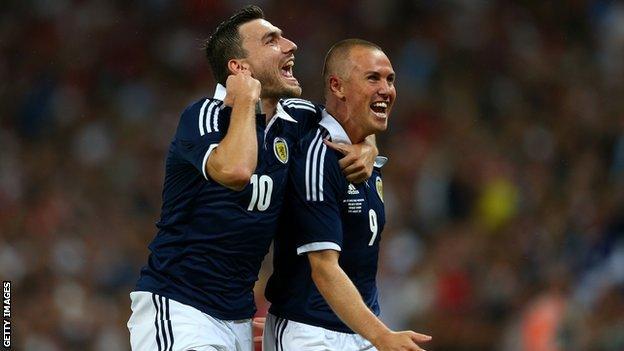 In the wake of defeat, football managers are often asked what "positives" they can take from the match.
It can be a rather pointless question, offering a downbeat coach an easy "out". But, following it would have been a reasonable one to put to Gordon Strachan.
He struck the right note in his post-match offerings, not wishing to wallow in the notion of a plucky defeat but - in itself an indication of the raised expectations of the Scotland team.
But, while emerging from Wembley with a draw would have given further cause for optimism, there is little reason to revert to the sense of despondency that was all-pervading just a few months ago.
The most obvious area for criticism of Strachan's team was the central defence, particularly because of the loss of two headed goals from set-pieces.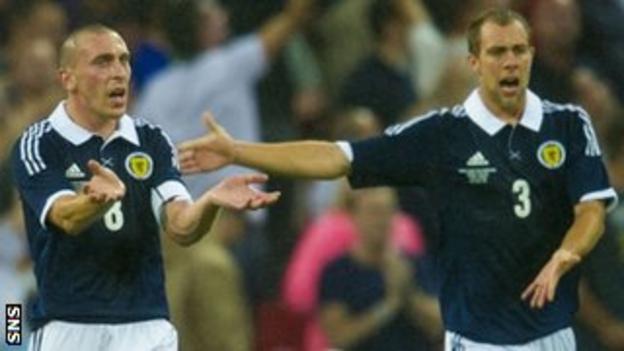 Strachan knows he doesn't have a really commanding centre-back in the Alex McLeish or Richard Gough mould, someone who will dominate aerial contests.
who performed so well in the win in Croatia, deserved his place and was only really found wanting at those two set-plays.
Grant Hanley is very much a work-in-progress. He may go on to become a top-class central defender, but his current status as a first choice is an indication of the scarcity of viable alternatives.
Equally, the use of Steven Whittaker at left-back says more about the players for whom that is their natural position than it does about the Norwich City player's strength there.
Despite those harsh realities, Scotland were only genuinely exposed for the first time on Wednesday night when Hanley was off the field receiving treatment and, unhappily for them, it resulted in England's first equalising goal.
Before that, Scotland had been well organised - as in the previous game against Croatia - and probably the better team.
Indeed, for 70 minutes, the Scots were a match for their more illustrious opponents. But, when the game finally became more disjointed with the introduction of numerous substitutes, there is no doubt
But, although this friendly match could never be simply described as preparation for the competitive games ahead, it very much served as part of the re-education of these players under the new manager.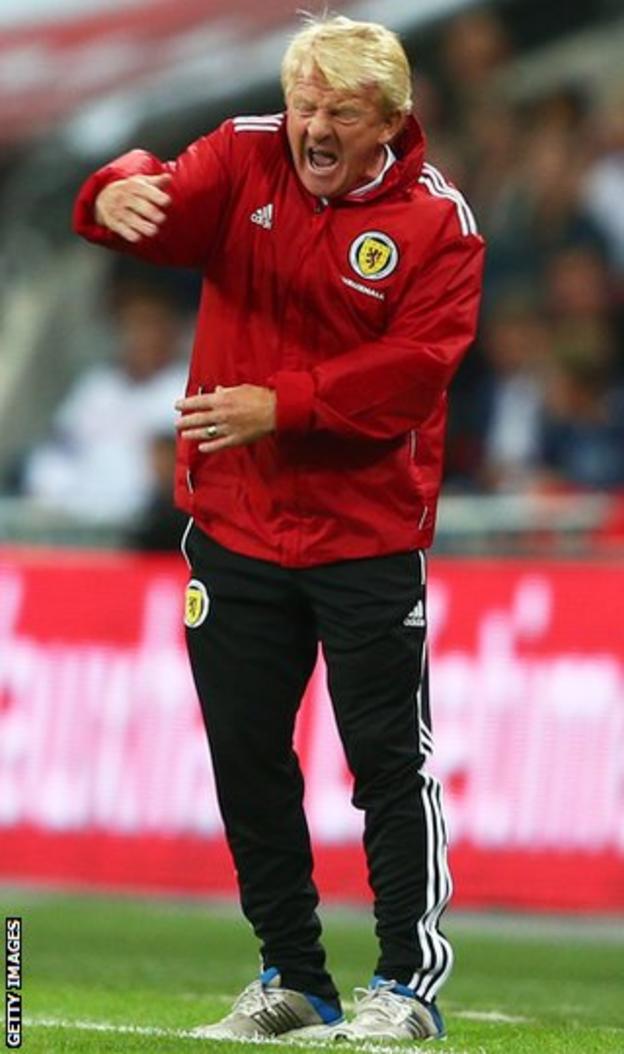 The tactics and formation have not changed drastically, but it appears the mindset has. There is a very obvious greater attacking intent in the team and, seemingly, an increase in self-belief.
Players who had hitherto found it difficult to string more than two or three passes together - as recently as the home defeat by Wales - looked comfortable in possession, brave on the ball and capable of causing the opposition defence genuine difficulty.
That is why the Scotland fans I spoke to after the game were encouraged rather than disconsolate. Their team might have lost, but at least there was a bit of pleasure in watching them play and hold their own, to an extent, against strong opposition.
Not that the tag of gallant losers is one Strachan will want his team to attract. But if those areas of positivity can be added to then there is hope for a brighter future.
The visit of Belgium early in September will be another stern test of the mettle of Strachan's men, as will the subsequent trip to Macedonia.
But at least Scotland will go into that double-header with a measure of pride restored and reason to believe they could win both matches.
With Steven Fletcher still recovering from the ankle injury he suffered against Wales at Hampden, the Scotland manager must decide if Kenny Miller's excellent performance against England means he sticks with him, or whether nurturing Leigh Griffiths at international level will serve him better in the years to come.
I suspect Miller will be the man to get the nod and, after the way he responded to those who criticised his selection at Wembley, it would be difficult to argue with that.