Scotland v England return earmarked for February talks
Last updated on .From the section Football534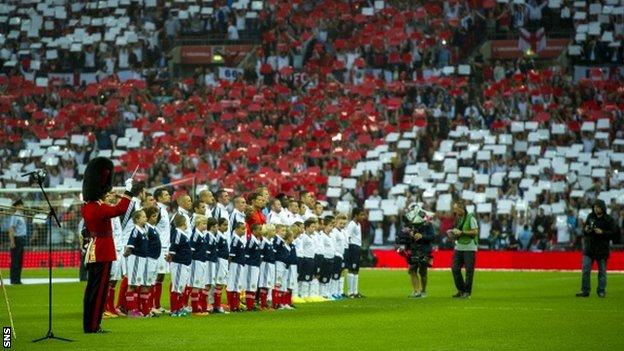 A return match between England and Scotland at Hampden Park could be dependent on the draw for the 2016 European Championship in February.
The Scottish FA is keen on hosting the fixture and believes its English counterpart is similarly enthusiastic about finding a suitable date.
Talks had already been held between the two parties ahead of the 3-2 victory for Roy Hodgson's England at Wembley.
But the two countries could be drawn in the same qualifying group in February.
If England and Scotland emerged in the same group, that would negate the need for a friendly fixture.
An FA spokesman did not wish to be drawn on the possibility of a return game, but BBC Scotland understands that the Scots expect the conversation between the two associations to resume after February's draw.
The two countries met on Wednesday night for the first time in 14 years to celebrate the FA's 150th anniversary year, with England coming from behind twice to win in front of 80,000 fans.
Several players, particularly the Scots, interviewed afterwards voiced their enthusiasm for restoring more regularly a fixture that was an annual event until 1989.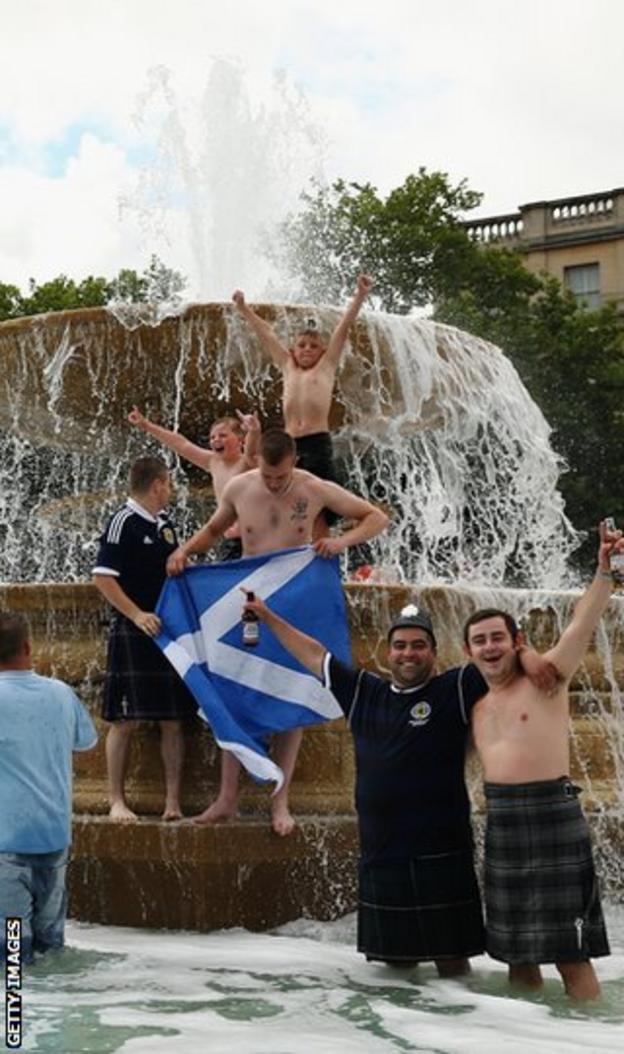 Prospects of a reverse game in Glasgow could have been enhanced by the behaviour of more than 20,000 Scottish fans who descended on London.
Scottish FA security and integrity officer David Brand has paid tribute to the Tartan Army following a full debrief from his FA counterpart, Police Scotland, Metropolitan Police and the British Transport Police.
"Firstly, on behalf of my colleagues at the Scottish FA and the network of people responsible for the security provision around the game, I would like to thank the supporters for showing their passion and commitment in an exemplary manner," he said.
"In speaking to all relevant authorities last night and again this morning, the general consensus is that the Scotland fans' behaviour throughout was impeccable.
"We had 20,000 fans travelling to London and we have only been alerted to two arrests for minor offences outside the stadium: I think that statistic alone is testament to the fun but respectful manner in which the Scotland supporters travel."
Prior to the match, Scotland last played England in a Euro 2000 play-off tie and Brand sees no reason why any off-field concerns should influence any future discussions with the FA.
"I know the fans would like to see the fixture played more regularly and I firmly believe that the excitement created in London and the atmosphere generated inside Wembley can only enhance the prospect of a return match at Hampden Park in the not-too-distant future," he added.