Colchester United: Academy decision angers Joe Dunne
Last updated on .From the section Football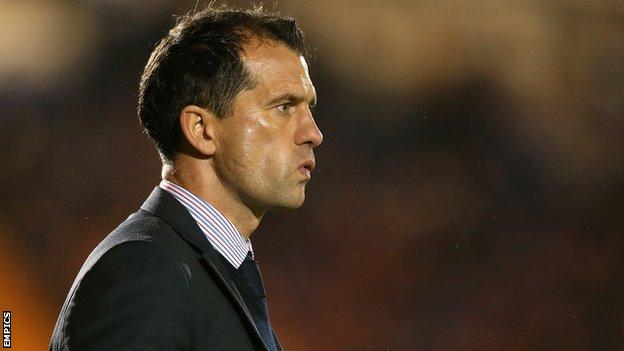 Colchester United manager Joe Dunne has spoken of his dismay after the League One club were denied Category Two academy status.
The U's failed to achieve the required standard as part of the Elite Player Performance Plan (EPPP).
Dunne told BBC Essex. "From a personal view it's deeply disappointing.
"As a nation we continue to bang on about the lack of quality coming through. Once again barriers are put up and they constantly seem to be put up."
Colchester have spent the past two seasons reducing their playing salary to invest in youth facilities and the production of homegrown players.
EPPP is a national structure for academies first put forward by the the Premier League.
Category One status allows clubs to recruit across a larger area and to enter their Under-21 side into stronger competitions, but is more costly.
The U's had aimed for Category Two status, but fell short of the required standard by 3% following an assessment by an independent audit panel.
A lack of productivity over the years between 1999 and 2011 proved most costly to the Essex side.
And Dunne believes the club needs more support from football and local authorities.
"I've been here 17 years," added Dunne.
"Every step forward we take - whether it's problems with the training ground, stadium, crowd, car park - there always seems barriers put up to stop us progressing.
"It makes us even more determined. Some people have hidden agendas which I don't understand. Because any other club in any other town I think there would be more constructive support.
"I don't think there's enough being done to succeed, not just as a club, but as a town."
Chairman Robbie Cowling said in his programme notes last weekend that he would need to "consider a number of issues" before re-applying for Category Two.
But Dunne suggested he would like to have another attempt.
"I think the chairman has been extremely brave and showed his courage in the face of it all," he said.
"We're still running our academy in the way we should run it and next year we'll go for it again."