Coventry City: Football League chief Greg Clarke feared for club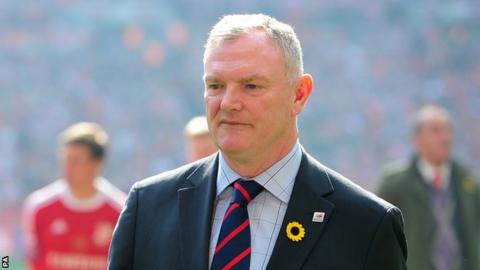 Football League chairman Greg Clarke said there have been times he thought Coventry City would cease to exist.
Coventry City FC Ltd, a non-operating subsidiary of the club, went into administration in March following a row with Arena Coventry Limited over rent.
CCFC Ltd now faces liquidation, but the club will continue to operate.
"We sailed so close to the edge with Coventry City there were times I thought there'd be no Coventry City," he told BBC Coventry & Warwickshire.
The Football League allowed the club to fulfil their first fixture this season after transferring the share which allows them to play in the Football League to the Otium Entertainment Group, who have strong ties with previous owners Sisu.
This transfer to Otium, who completed the purchase of Coventry in June, came following the rejection of a Company Voluntary Arrangement by the Ricoh Arena's operators, ACL, at a creditors' meeting the day before the season began.
And Clarke said that the Football League had no option but to transfer the share in order to keep the football club going.
"We were faced with choices," he said. "One of the choices was to say 'no' which would have meant Coventry City wouldn't have been able to complete their fixture at the start of the season and wouldn't have been eligible for the Football League. They would have been gone.
"We would have promoted one more club from the Conference at the end of the season and gone back to 72 clubs without Coventry City.
"I really think people need to understand the dangers the club faces, and how hard the Football League is working to make sure the principle objective of keeping the club alive is served."
Shortly after Otium's takeover of the club they agreed a groundshare at Northampton's Sixfield's Stadium for the next three years following their long-running row with the Ricoh's owners.
And Clarke said that despite being unhappy with the move 34 miles away from Coventry, he said that from his perspective, it was difficult to avoid.
"When you have to make big decisions, you're sometimes left with a choice of which is the least worst option," he said.
"Am I happy the people of Coventry have to go 34 miles to see their game? Am I happy to see people who can't afford to travel or have mobility issues not be able to get there? Of course I'm unhappy about that.
"But I would have been more unhappy if we had said we're not going to transfer the share and Coventry City would cease to exist. That would have been worse, and that's what we always try to avoid."
Looking to the future, though, Clarke is hopeful that they will be able to reach an agreement to bring Coventry back to the Ricoh Arena.
"If the Football League stays on good terms with the club and stadium owners and consistently tries to broker a compromise that brings Coventry City back to the people of Coventry sooner, we'll all be happier, and that is what we'll focus on."
Meanwhile, goalkeeper Chris Dunn, 25, has left Coventry by mutual consent after making three appearances in two years.