Qatar World Cup: Richard Scudamore wants summer event
Last updated on .From the section World Cup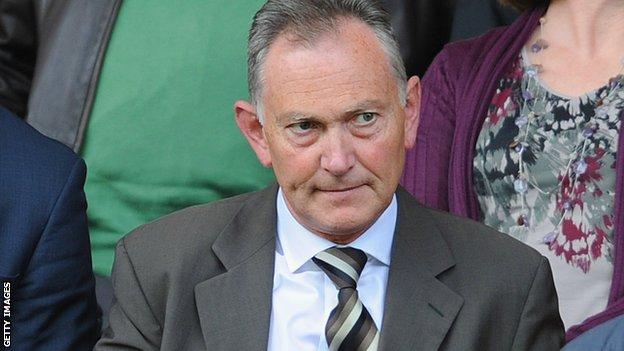 Premier League chief executive Richard Scudamore is adamant the 2022 World Cup should go ahead in Qatar in the summer.
There have been calls to move the cup to the winter because temperatures can reach 50C in the summer but Scudamore is confident Qatar have plans in place.
"The bid was extremely thorough, they dealt with all the issues about the heat and the managing of the air conditioning in the stadiums," he said.
"My view is you can do it in the summer. You can do it there."
New Football Association chairman Greg Dyke is one of those calling for the tournament to be moved to the winter, because of the extreme temperatures.
"Even if all the stadia are air-conditioned, I think it will be impossible for the fans," Dyke said earlier this month.
"Just go out there and wander around in that sort of heat. I just don't think it's possible.
"My position, and I suspect the FA's position, will be: 'You can't play it in the summer.'"
Last month Fifa vice-president Jim Boyce called on the Premier League to drop its opposition to the switch.
"Probably the main objectors at the moment are the Premier League and I can understand why because there's a lot of money involved," he said.
"But from a common sense and especially a health point of view, (a winter World Cup) is something I would dearly love to see and I would hope that people would sit down and try to sort it out."
Qatar were handed the tournament in 2010, beating off opposition from South Korea, Japan, Australia and the United States.
"It was no secret that it is hot in Qatar in the summer," Scudamore told BBC Sport.
"The people who voted for that did so with the full knowledge of the implications of what it meant.
"If they are now deciding that was the wrong decision, then their simple solution of just moving it to the winter is the wrong way to go."
Moving the tournament would have implications across the world although in many countries the effects would not be as far-reaching because of the winter breaks.
"We are a winter game," added Scudamore.
"What I don't want is our game pushed back until June and July. It doesn't work for English football. We have other sports. What would happen to cup competitions, like the FA Cup - things that are unique and important to English football?
"The practical implications of moving it are huge."