Cardiff City: Tan would not rule out changing club's name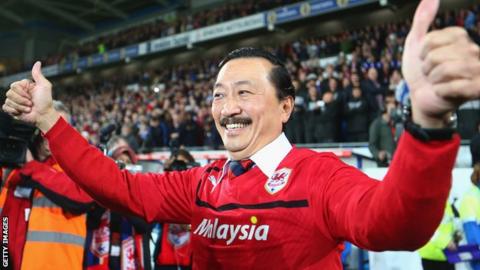 Cardiff City owner Vincent Tan says he is expecting a return on his investment from his team in the Premier League.
Manager Malky Mackay has broken the club's transfer record three times this summer, and Tan would like to see the money turned into points.
"If you spend £35m on a team you expect your manager and the players to deliver. God willing, they will."
He also refused to rule out changing the club's name, but says he has no current plans to do so.
Tan oversaw the club's change to a red home kit from their traditional blue last summer as well as the introduction of a new badge prominently featuring a red dragon alongside a bluebird.
He has previously denied planning a change of name to Cardiff Dragons, but the subject has come up again following the rebranding of Hull City FC as Hull City Tigers.
"I read a bit about Hull City's name change," Tan said at media conference for his 'Thanks a Million' initiative', which has seen Cardiff donate £1m to local charities.
"They [Hull] are back in the Premier League and I admire their owner Assem Allam for what he has done," he said.
"One thing I read that I liked is he says there are so many teams with the name city.
"There is Hull City, Leicester City, Cardiff City, Bristol City - everyone is called City. Who doesn't know Cardiff is a city? Who doesn't know Hull is a city?
"I think his strategy is good, but I'm not saying we are making any similar changes. I don't want nasty e-mails written to me tomorrow, but I always say 'never say never'. But we are definitely not changing anything now."
The Bluebirds are preparing for their first Premier League season, which will begin with a trip to face West Ham at Upton Park on 17 August.
Tan has backed manager Malky Mackay in the transfer market, funding the acquisitions of striker Andreas Cornelius (£8m), central defender Steven Caulker (£8.5m) and midfielder Gary Medel (£11m).
And he explained his thinking behind the financial commitment he has made as Cardiff prepare for their first season in the top flight in 51 years.
"I thought £25m would be a nice number to spend on players," he said. "Reading spent less than £10m last season so I thought £25m would be about right.
"The manager says that if I can, I should spend maybe £35m. It looks like we are almost there, maybe a little bit more. But I like to look upon that as an investment and I hope these players will work out well for us."
Tan also reiterated his plan to make the club debt-free in the coming months after reaching an agreement with Langston Corporation over a long-term debt.
He is also looking to buy out the club's minority shareholders.