St Mirren: Richard Atkinson steps down as director
Last updated on .From the section St Mirren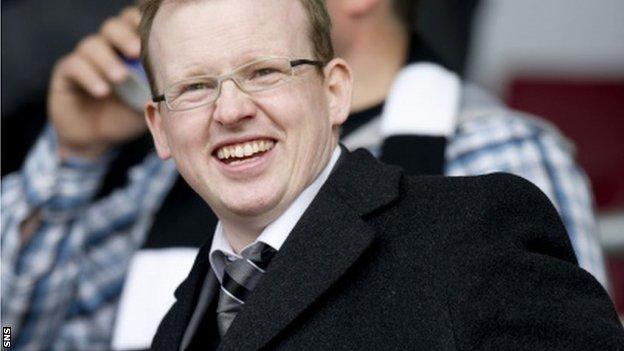 Ayrshire haulage firm boss Richard Atkinson has stepped down from St Mirren's board a year after his .
"The final conclusion of the 10000Hours bid was unsuccessful despite a magnificent effort from the supporters for the proposal," he said.
"I obviously wish the club well.
"And, in particular, I wish to thank the board, staff, team, management and, of course, the great fans for their support during my board membership."
Atkinson was co-opted on to the board in June 2010 to allow him to set up his 10000Hours project, which aimed to buy out a consortium of directors selling a 51% stake in the club.
But, after finally lodging a £1.25m bid in September, the offer was rejected when the consortium - which included chairman Stewart Gilmour - expressed doubts about its "sustainability".
"My involvement with the club came as a result of leading a proposal to buy the shareholding currently held by a consortium of the current board using a Community Interest Company which would in turn be owned and controlled by the fans of the club who were the members of the CIC," Atkinson reiterated in his statement.
Atkinson will now step down from his boardroom role to focus on his work with Supporters Direct Scotland and its efforts to encourage fan ownership with Scottish clubs.
This may have been at the request of the current board, which feared that his presence as a director may have put off other potential bidders.
The consortium put its controlling stake in the club up for sale four years ago but has so far failed to find a buyer.