Cardiff boss Malky Mackay ready for Premier League challenge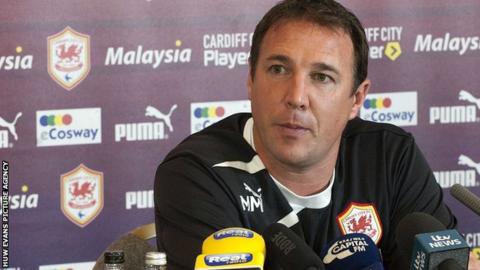 Cardiff City boss Malky Mackay admits he has to step up as a Premier League manager just as his players have to adapt to the top flight.
Mackay guided the Bluebirds to the Premier League after finishing 2012-13 champions of the Championship.
Cardiff open up their top-flight campaign against West Ham at Upton Park on Saturday.
"I've got to keep working and striving to be the best I can be. You never stop learning," Mackay said.
"I learned that from top managers. There is no point where you think you have everything in your locker. Absolutely not."
Mackay knows there is a lot of hype and expectation surrounding Cardiff's first taste of Premier League football.
But he is sure his players can cope with the added attention.
"[We will] go to Upton Park and play the game rather than the occasion. Players know how do deal with that.
"It's great in terms of the hype for the football club but actually when you get down to the nuts and bolts of it we are going on the pitch to play against a football team."
But although the club has broken their transfer record three times this summer, thanks to the financial backing of Malaysian tycoon Vincent Tan, Mackay knows his squad needs more strengthening.
He has pledged there will be more signings to go along with Andreas Cornelius (around £7.5m), Steven Caulker (£8m) and Sevilla's Chilean midfielder Gary Medel (£11m).
"We have to try to get the best players to this football club and I won't apologise for that and I'll take my time and do it in the way I think is best for the club," insisted Mackay.
"It was never going to be about quantity this summer, it was always about quality and that takes patience.
"We have still got a couple of irons in the fire at the moment and some things take time. But I have got until 2 September. Ideally it would be lovely if you have everyone in for day one of the season.
Added Mackay: "What we have to do is catch up. All these clubs have been in there and over the last few seasons have added to their squad in bits and pieces and are full of internationals
"We are playing catch-up. We have to try and get to that level.
"The clubs that come up have got to get to that level. We have to go in and bring better quality players to the football club. If we don't there is no point in going up."