Luis Suarez: Liverpool striker trains after Brendan Rodgers talks
Last updated on .From the section Liverpool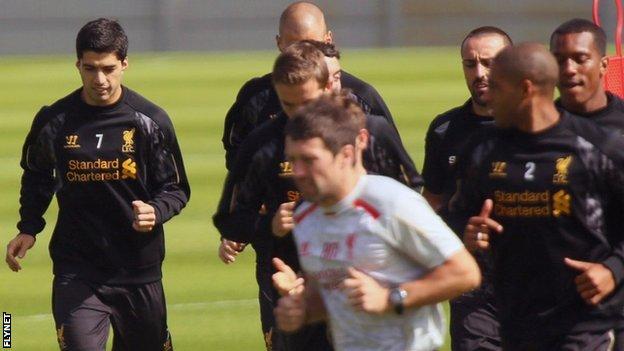 Liverpool striker Luis Suarez trained with the club's first team on Friday after talks with boss Brendan Rodgers.
Suarez, 26, who has previously said he wanted to leave Anfield, returned to Merseyside on Thursday after playing in Uruguay's 4-2 win over Japan in Miyagi.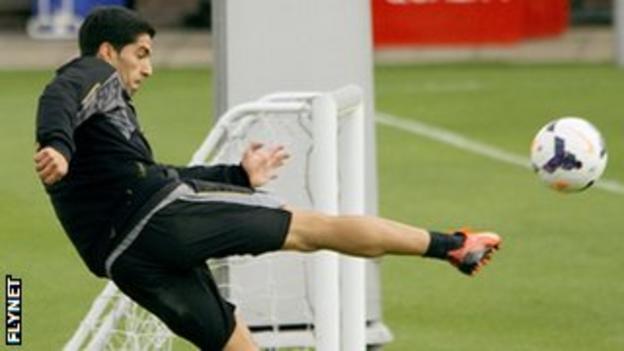 He was made to train alone last week after accusing Rodgers of reneging on a promise to sell him this summer.
Rodgers had previously said he would only reintegrate Suarez if the Uruguayan apologised for his comments.
Suarez has been the subject of two bids from Arsenal and has publicly spoken of his desire to move to a club in the Champions League.
But Liverpool have insisted throughout the summer that he will not be sold. "I won't be speaking any more about Luis Suarez until he is available [again from suspension]," Rodgers said on Thursday.
"What I want to concentrate on is the players that are available for this weekend."
Suarez is banned for the first six games of the league season after being given a 10-match ban in April for biting Chelsea defender Branislav Ivanovic.
Earlier this week, Suarez was reported to have told a Uruguayan newspaper that he would now stay at Liverpool because of "all of the people's affection".
The quotes originated from a journalist who has close links to the player and the El Observador newspaper also said Suarez may sign a new contract. However Suarez has not contacted Liverpool about a change of heart.
Ahead of Liverpool's season opener against Stoke at Anfield, Rodgers said: "There has been so much written and said about Luis over the last few months.
"From our perspective there is a standpoint from the club and myself that has not changed.
"What I want to concentrate on is the players that are available for this weekend.
"Purely out of respect to them and the work which has been going on, I only want to talk about them."
Suarez, who joined Liverpool from Ajax for £22.7m in January 2011, scored 30 goals in 44 appearances for Liverpool last season.