Chelsea will win title under Jose Mourinho - Alan Shearer
Last updated on .From the section Football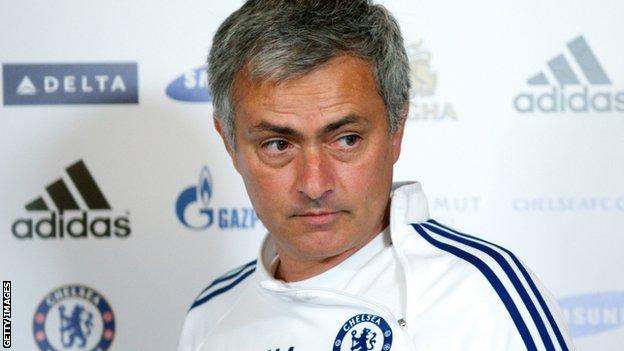 Jose Mourinho will be the reason Chelsea win back the Premier League title this season, according to Match of the Day pundit Alan Shearer.
"Mourinho is box office," Shearer said.
"He knows what the Premier League is all about, he knows how to win it, he knows what it takes and that is why I would go for Chelsea right now."
Mourinho led Chelsea to back-to-back titles in his first spell at Stamford Bridge and Shearer believes it is his ability to get the best out of his players that sets him apart.
"I like the way he operates, he is great for the media and his record speaks for itself, albeit last season at Madrid wasn't his best," Shearer, who scored 30 goals for England, told BBC Sport.
"But when you have got a record like his you can forgive him an off season. When you talk to players who have been managed by him he has got a wow factor about him.
"He gets the best out of them. Players don't seem to have a problem with being rotated, he seems to have a knack of looking after his players, he puts himself in the firing line and protects his players. They like that, respect that and respond to that."
Shearer believes the final few weeks of the transfer window, which closes on 2 September, could have a bearing on the title race, with prospective moves for Tottenham's Gareth Bale and Manchester United's Wayne Rooney likely to have an impact on the destiny of the Premier League trophy.
"I would say there are four or five big transfers waiting to happen," said Shearer. "I genuinely believe that once one happens, three or four will happen. While I can go for Chelsea now, we would yet see one big marquee signing that could change things."
Shearer says Manchester City boss Manuel Pellegrini's lack of trophies, and the weight of expectation on new Manchester United manager David Moyes' shoulders - following Sir Alex Ferguson's retirement in May - will play into Chelsea's hands.
"Going into a Premier League season without Sir Alex is strange in itself," Shearer added. "But Moyes is going in there for the first time and that brings its own pressures.
"You look at Manchester City and Pellegrini hasn't won any trophies.
"When you look at Arsenal, can you say they are anywhere near winning trophies? I don't think so.
"And Chelsea? Mourinho has been there and done it and, at this stage, that could be the difference."
Shearer believes defending champions United will push Chelsea all the way and hopes that, even if he cannot deliver the title this season, Moyes will be given time to mould the club in his own image.
"Whoever took over from Sir Alex was going to be asked the same questions, was going to be under the same pressure under the same scrutiny," Shearer added.
"I am delighted David has got the job. When I have been with him and worked with him and, having watched him work the way he has at Everton on the budget he had, he deserved a chance at a big club.
"He has got the biggest club and they have to give him a chance to be his own man and implement the ways he wants to work.
"I can't see them being anything other than up there challenging. I didn't think it was a great league last season; it was a bit dull. But [United] won at a canter without really being at their best.
"I do see them being up there again and challenging, as Manchester United always are. I hope they are patient with him; he is a good manager and a good man."