Ryan Giggs would consider non-Premier management move
Last updated on .From the section Football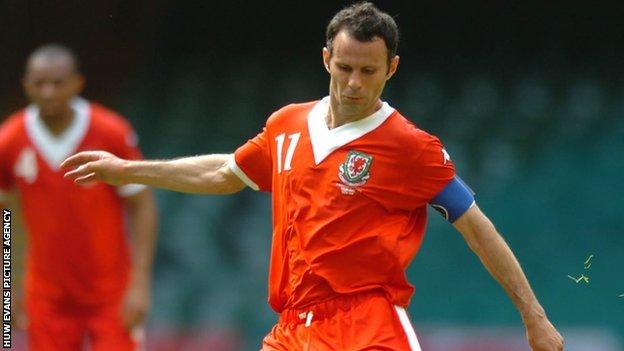 Ryan Giggs would not rule out taking a management role outside the Premier League when his Manchester United playing career ends.
The 39-year-old Welsh veteran is set for a 22nd Premier League season, but combining playing with his first assistant coaching role.
He hopes to go on to manage the Old Trafford giants and Wales.
And asked if being a lower-league boss is possible, he told Sport Wales: "I don't think you can rule anything out."
Following long-time Old Trafford boss Sir Alex Ferguson's decision to retire after winning the 2012-13 top-flight title, their new manager, appointed Cardiff-born Giggs to his coaching staff.
The player says he is "in the best place" to learn the trade.
And he is open to the possibility to a future move away from the club he joined from school to further his management ambitions.
"You've got to open yourself up to whatever's ahead, whatever it may be," said Giggs.
"At the moment my future's here and my concentration's on playing and trying to contribute as a coach as well.
"I'm trying to walk before I run, but I wouldn't rule anything out.
"If you've played for your country and go into management, then of course [you'd like to manage your country].
"I've played for United for 20-odd years and obviously played for Wales as well so they are the two jobs that ultimately [I'd like to do].
"It's like you're a player really. When you're starting out you want to play for the club you supported or you were at. I did that.
"You want to play for your country - I did that.
"And it's similar being a manager. I'm no fool. You can't walk into a job just because you had a career in the game.
"You've got to be deserving of managing your country because it's a massive honour."
However, Giggs says his immediate future as a player-coach belongs to Moyes and United.
"I'm learning as I go and it is like starting all over again.
"I am at the best place to do that. It's a perfect role for me... I'm still playing; I still see the other side as well.
"So I certainly see it here, the near future. I'm enjoying it.
"I'm going to make mistakes and I'm going to do things I'll learn from.
"Hopefully it'll stand me in good stead going into the future."