Nile Ranger: Swindon sign striker despite ongoing rape case
Last updated on .From the section Swindon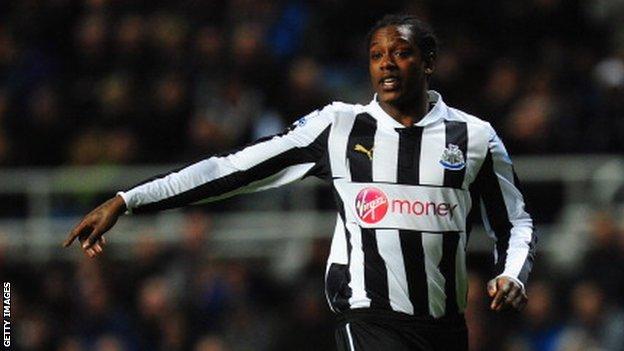 Swindon Town have signed former Newcastle striker Nile Ranger despite him currently facing a rape charge.
The 22-year-old, currently on bail, has been included in the Swindon squad to play Shrewsbury on Saturday.
Ranger, who has agreed a 12-month deal with the option for a further year, is next due in court on 21 August.
"I want to channel my energies back into football and feel the discipline and environment of the club will enable me to do this," he said.
Ranger left Newcastle by mutual consent in March after almost five years with the club, during which he had loan spells at Barnsley and Sheffield Wednesday.
A statement from Swindon said the club had signed him with "requisite caveats vis-a-vis his ongoing legal case".
Chairman Jed McCrory commented: "Having spent a few weeks in discussions with Nile explaining our vision and the values of the club and what we would be looking from him, I feel that with rigorous support from the club, Nile could prove a valuable asset to the squad.
"We will provide all the support he needs and it is up to Nile now to prove the star quality player he is - which we as a club believe he will.
"And, of course, I am pleased that Nile has chosen to join Swindon despite having been offered commercially more attractive terms from other clubs."
Former England Under-19 international Ranger, whose registration has been approved by the Football League, said it was time to get his career back on track.
"I want to do my talking on the pitch and perform to the level I know I can," he continued.
"There is a great buzz around the place. I have been given another chance and am looking forward to smashing in goals for Swindon Town.
"I would like to ask the Swindon fans to give me a chance. I'm sure I'll repay their faith by scoring goals like a proper number nine should."
The rape charge relates to an alleged incident at a hotel in the Jesmond area of Newcastle in January.