Michael Laudrup tells Swansea players to 'move on'
Last updated on .From the section Football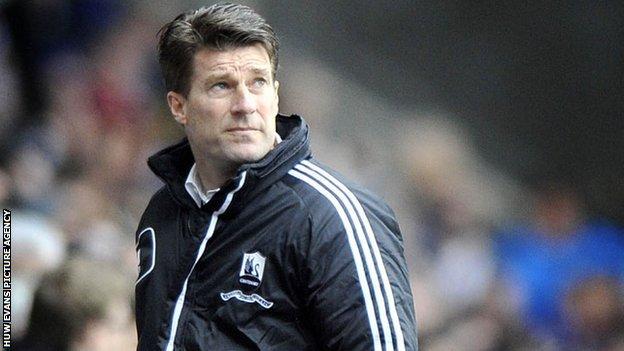 Swansea manager Michael Laudrup has reluctantly accepted Manchester United's finishing was superior in their
He has also told his players to "move on" following the opening-day defeat by the reigning Premier League champions.
"In the finishing they were just top class, some of their goals, and you just have to accept that," said Laudrup.
"I don't like it but I have to accept it and I've said that to the players."
Laudrup also consoled himself with the belief that differing ambitions exist between the two clubs.
"Our league is not to play Man Utd," said Laudrup.
The Swans were competitive in the opening exchanges but goals by United's strikers Robin van Persie and Danny Welbeck in two minutes just after the half-hour changed the complexion of the contest.
Van Persie made it 3-0 to the visitors 18 minutes from time before Swansea's record £12m signing Wifried Bony, on as a half-time substitute, made an impact with a late goal but Welbeck had the final say with a delightful chip over Swansea keeper Michel Vorm to seal the win for the champions.
"We would have loved to have got away with a point, especially because it is the first game we played at home," Laudrup said.
"But they are playing for different targets.
"Three of the four [United] goals were absolutely high class; different class.
"You can always say maybe the things that happen just before the great goal was because we lost some possession in a very dangerous area, on the second goal and even on the third one.
"In the first half an hour we did well, we did what we should.
"They had one shot at target. We moved the ball around well, possession was good, we dominated in midfield.
"And then they scored two goals. One goal - you can come back from that.
"But two goals in less than two minutes is just too much.
"The difference was in the finishing. We had more or less the same number of chances as them."