David Moyes: Manchester United manager passes first league test

By Phil McNulty
Chief football writer
Last updated on .From the section Football635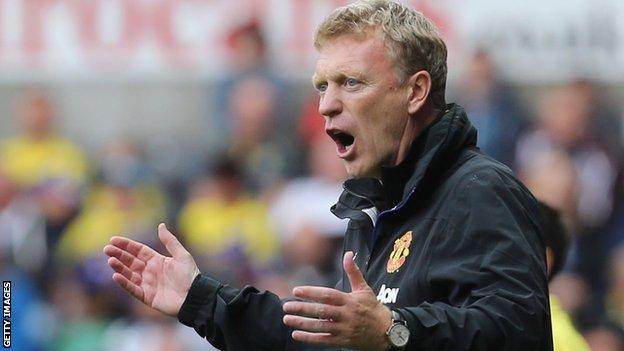 David Moyes announced that he had slept soundly the night before his first Premier League match as Manchester United manager. The weight of expectation accompanying the succession to Sir Alex Ferguson had not kept him awake.
And if Moyes had any dreams, they would have mirrored the events that unfolded at The Liberty Stadium in a manner that had business as usual stamped straight through it as United beat Swansea City 4-1.
It is something of a sporting culture shock to see a figure other than Ferguson prowling around Manchester United's dug-out after 26 years but on the pitch this was more of the same from a team that claimed its 20th title last season.
The personnel was the same as was the source of inspiration. No big-name signings - although Moyes sounded increasingly confident about rectifying that in a relaxed post-match performance - but still Robin van Persie was the centrepiece, as he will surely remain whoever comes through Old Trafford's doors in the next fortnight.
Moyes, to more than a little mirth elsewhere in the Premier League no doubt, voiced his complaints about United's tough opening in a manner akin to someone almost registering suspicion, but this win in a tough place actually provided the perfect platform for Chelsea's visit to Old Trafford then the game at Liverpool.
Two other personalities shaped the day's agenda as well as the match-winner supreme Van Persie. And both were in close proximity in the technical area as the new United manager named the disaffected Wayne Rooney as a substitute.
The Scot, clad in a black Manchester United tracksuit, patrolled the touchline throughout. In Ferguson's abdication speech on the turf following his final game at Old Trafford, ironically a victory against Swansea, he left a key instruction for the club's supporters.
He told them it was their task to back the new manager. And back Moyes they did - noisily. There was even a splendid reworking of Slade's classic 70s hit "Cum On Feel The Noize" as their anthem for the new manager.
"Come on Davie Moyes…" You get the rest.
He acknowledged their support in low-key fashion when it was demanded, was not slow to order his new charges around, and celebrated goals with some boisterous fist-pumping that was slightly more accomplished than his predecessor's rather awkward dance around the dug-out.
And if Van Persie carries on in this form he will have plenty of celebrating to do. His goals were differing works of football art. The first combined athleticism, agility and technique to hook a finish past Swansea goalkeeper Michel Vorm and his second was an announcement of thunderous power as a 20-yard drive flew into the top corner.
Moyes will have been equally pleased with the work of Danny Welbeck, who has taken one game to double his Premier League tally from last season. He scored a poacher's tap-in as United took charge inside two minutes just after the half-hour then rounded the night off with a display of high confidence to loft a finish over Vorm.
United's second-half goals both contained a contribution from their other headline grabber Rooney, with a neat pass and intelligent run to open up space for Van Persie then a perfectly weighted delivery for Welbeck.
Rooney cut a subdued figure around the periphery of the game in the warm-up, when goals were celebrated and at the conclusion - but the attitude was exemplary when the action was taking place.
And in the stands at The Liberty Stadium, there was a sub-plot that may have surprised a few - including even Rooney himself.
When he jogged along the touchline to warm up in the second half it was the signal for loud jeering, but only from Swansea fans.
In contrast, United's followers applauded him warmly and chanted his name. Things may be different when 76,000 are packed into Old Trafford, but among the travelling contingent in south Wales there was no trace of hostility, nothing to suggest Rooney's mission to leave Manchester United might be aided by a toxic reaction from supporters.
It was, in fact, a show of appreciation and for all the unrest that is seemingly swirling around in his mind, he may do well to let that register and also to perhaps acknowledge that he will struggle to find a better stage to showcase his talents.
United are insisting Rooney cannot move - least of all to Chelsea - and he may come to realise that staying at his current club is hardly a condemnation to suffering, least of all when it involves playing alongside Van Persie.
This day, though, was for Moyes. There was no tampering with the template that has been so successful although he has clearly been struck by the impact of walking into a dressing room where success is a way of life.
He said: "There is a winning habit through this club. I can sense it with the players. You can feel it when there is a game on and a job to do. It is difficult to explain but it is their mannerisms, the things they do before the game. There is a lot of calmness and I'm learning a lot from it as well."
There was even a good luck text from Sir Alex Ferguson, with a nod to his new and more leisurely life as he also complained about a tip on a horse that had gone wrong.
As for Moyes, settling into the seat occupied by one of the game's greats, he said: "I came to do a job that I have been doing for a long time."
And happily for the new Manchester United manager that is exactly what his players did as well.