Qatar World Cup: Bernstein wants rebid not reschedule
Last updated on .From the section Football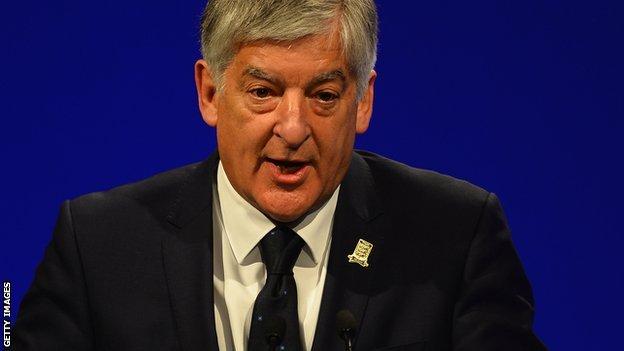 Former Football Association chairman David Bernstein says there should be a "rebidding process" for the 2022 World Cup in Qatar rather than the summer tournament being moved to winter.
There are concerns over the heat in Qatar during the summer, when temperatures can reach 50C.
"My end view is either that it should be left where it is or there should be a rebidding process," said Bernstein.
"It was a strange award in the first place, we all know that."
Qatar beat South Korea, Japan, Australia and the United States to host the 2022 competition and its World Cup organising committee says it is ready to host the tournament in the summer.
Bernstein's successor at the FA, Greg Dyke, said last week it would be "impossible" to stage the World Cup in Qatar in the summer.
He suggested that Fifa could either change when the tournament is played or change the location, adding "'that the former is more likely than the latter".
However, Bernstein - similarly to the Premier League - opposes a change of dates.
"It's a huge issue," he told Radio 5 live's Sportsweek.
"My personal view on this is unchanged. In 2010 Fifa awarded two World Cups at the same time. It was a controversial thing to do and I believe that Fifa regret doing it now.
"Bidding for a World Cup is a serious business. There is a lot of money and national prestige involved.
"The bid that Qatar submitted was a summer bid. It was accepted by Fifa as a summer bid so I don't believe that it is impossible to hold the competition in the summer.
"It may be undesirable, with fans coming out of cool stadia into boiling heat clearly an issue.
"But I think the idea of just arbitrarily changing from summer to winter smacks of what I would call a false prospectus."
He added: "It's not just the Premier League, I think all the European leagues and maybe leagues and competitions outside of Europe will feel the same about this.
"It is a massive thing. It will not affect just one season but, I believe, three seasons - those either side of 2022. It's a very big thing to do.
"I just think to fundamentally bid on one basis for something as massive as this and then just to change it afterwards cannot be right."