Arsenal fans question Arsene Wenger's future as manager
Last updated on .From the section Football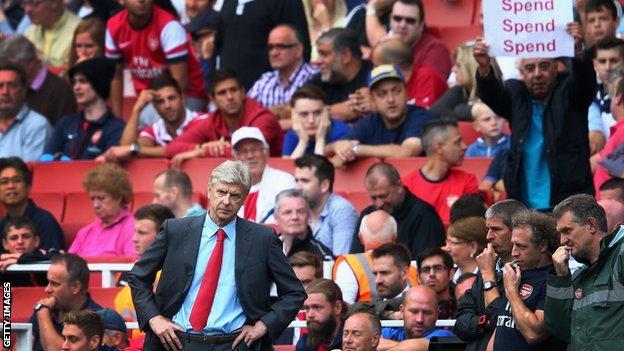 Arsene Wenger should not be offered a new contract as Arsenal boss, according to the Arsenal Supporters' Trust (AST).
The Gunners have not spent any money in the transfer window and on the opening day.
"Chief executive Ivan Gazidis has spoken of the intent to We believe this is inappropriate," read an AST statement.
"The entire focus must be on using the remaining days of the transfer window to strengthen the team significantly."
The AST is the club's official supporters trust and has about 1100 members, including many small shareholders.
Wenger was appointed Arsenal manager in October 1996 and his contract ends in May 2014.
Arsenal have told BBC Sport that they will not be commenting on the AST statement.
The club qualified for the Champions League in each of the past 16 campaigns but their most recent trophy was the 2005 FA Cup.
After securing fourth place in the Premier League on the final day of last season, Gazidis revealed the board was after an "escalation in our financial firepower" created by new television and sponsorship deals.
But Arsenal's to date is the 20-year-old French striker Yaya Sanogo on a free transfer from Ligue 1 side Auxerre, the Emirates Stadium.
The AST has called on the club to invest some of their available money - they have a reported cash balance of £154m, which is almost as much as the rest of the other 19 clubs in the Premier League combined.
"Ambitious football clubs invest the money they receive from their fans, and sometimes their owners, to make themselves stronger," said the AST.
"Arsenal supporters pay in world football, providing the club with considerable financial resources, but the ambition and ability to use them appear to be missing.
"The fact that there is money available for squad-strengthening is not disputed. The AST's independent analysis suggests that the amount is somewhere between £70m-£100m."
It also wants to take decisive action.
"Stan Kroenke does not attend many Arsenal matches nor seem to have the time to devote to the affairs of Arsenal," the statement continued.
"But it is clear to all that the football personnel he is ultimately responsible for are failing. The AST calls on him to appoint an independent expert to conduct a review of all football functions at Arsenal.
"Clearly the interaction between our scouting, negotiating and player purchasing processes are failing and need urgent improvement.
"A decision on whether to offer an extension to the manager's contract, which ends in May 2014, should only be taken following the closing of the transfer window and assessment of the team's performances.
"Considerable improvement must be shown for us to be convinced this should happen."