Hearts: Fans' group outlines plan to purchase club
Last updated on .From the section Hearts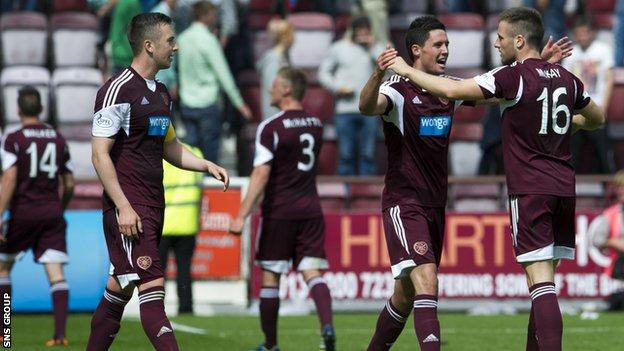 The fans' group seeking control of administration-hit Hearts has outlined its plan to buy the club.
And it aims to use capital raised by the Edinburgh business community to complete the purchase via a company voluntary arrangement (CVA).
That money will eventually be paid back by contributions from supporters to deliver fan ownership.
Ian Murray MP, chairman of FoH, said that it had already received 6,700 pledges, worth between £10 and £500 per month, from supporters.
FoH says those contributing will have an immediate influence in the running of the club should the deal go through, with the full transition of ownership predicted to take between three and five years.
Of the funding from local business interests, Murray explained: "They are all Hearts fans and they are all doing this for no absolutely financial gain.
"They are putting in the money to buy the club, which is essentially to deliver a CVA.
"And it will be given back to the fans over a period of time using the pledges that come in.
"We were always requiring a capital sum and this is the strongest way to do that.
"This gives us the opportunity to purchase the club via a CVA route and also gives us the help of some tremendously experienced businessmen."
Hearts entered administration in June and BDO, which has taken over the running of the club, revealed last month that club debts amount to £28.4m.
Any deal to exit administration via a CVA must be agreed with the major creditors of the club, with Murray saying: "We will only bid what we can afford and what we think is realistic".
Joint-administrator Trevor Birch of BDO warned "there is still some way to go" before adding "we will work with FOH to ensure that the bid produces an acceptable CVA for the creditors".
"At the moment we cannot put a timescale on the process as a number of negotiations with various parties still need to take place and we are waiting for the appointment of administrators to UBIG (Hearts' parent company) to be ratified," said Birch.
"However, we can ensure that collectively we make as much progress as possible on our side so we are able to finalise the matter quickly once the opportunity presents itself."
The Lithuanian investment firm owns 50% of Hearts shares and, until the courts make a decision on the proposed liquidation of the company, no sale of Hearts can be completed.
Lithuanian bank Ukio Bankas, itself in administration, is Hearts' other main creditor.
The Edinburgh side started the season with a 15-point deduction, a penalty for entering administration, but have managed to pick up four points in their opening three Premiership games.