Arsenal Champions League exit 'unthinkable' - Alan Hansen
Last updated on .From the section Football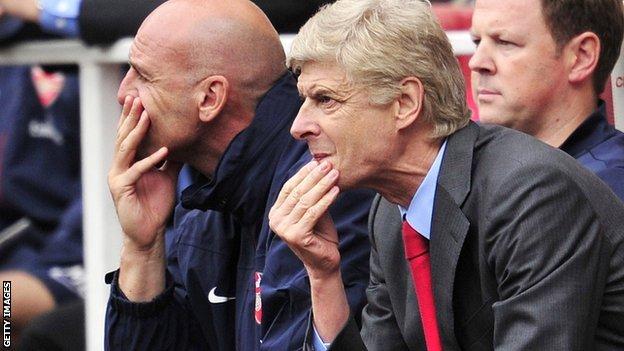 Arsenal are under pressure to avoid "an unthinkable" exit before the Champions League group stage, says Alan Hansen.
Arsene Wenger's men face Fenerbahce in Turkey in the first leg of their group stage play-off on Wednesday.
"They will be left with the League Cup and FA Cup as they aren't going to win the title," said former European Cup winner and BBC Sport pundit Hansen.
Ex-Liverpool and Scotland defender Hansen added: "The pressure is on Arsenal to finish in fourth position so you get a bit of leeway because the Champions League is not only great for revenue but also for supporters.
"It takes the pressure off you to a certain extent but if you haven't got the Champions League then all the very best!"
Arsenal also play London rivals Fulham and Tottenham after each leg of the games against the Turkish side.
"The worst-case scenario is that they don't win any of the four matches and the season is effectively over," added Hansen, speaking on MOTD3.
Arsenal scraped into the Champions League qualification round after claiming fourth spot in the Premier League on the final day of last season.
However, manager Arsene Wenger's failure to sign a notable player so far this summer has caused unrest among fans and his side were booed off at full-time following the home defeat to Villa.
The Gunners have had two bids rejected for Liverpool striker Luis Suarez, while Napoli beat them to the signature of Argentine striker Gonzalo Higuain.
Midfielder Luiz Gustavo also joined Wolfsburg after being heavily linked with Arsenal.
"Arsenal have had frailties for the last three or four years in certain positions," said Hansen. "They have the money to fill those positions and Wenger hasn't done so.
"The goalkeeper, back four and certainly a holding player that is destructive are much-needed.
"They have got multi-talented midfield players and the massive pace of Theo Walcott. OK, they haven't got a potent goalscorer - but it's when they haven't got the ball that the problems are there as we saw against Aston Villa."
Hansen added: "I've mentioned four or five positions he needs to fill but he also needs a leader on the pitch.
"Manchester United showed that last season how to pick up points when you play poorly. When Arsenal play poorly then usually it is a disaster.
"They need someone on the pitch that when it is going badly is going to say to the players, 'right you get in that position and just sit for a while'.
"You never see that with Arsenal. You see that with every other team in the league, even for the poor teams you see somebody on the pitch being a leader. With Arsenal you never see it."