Accrington Stanley: MD Robert Heys given 21-month betting ban
Last updated on .From the section Accrington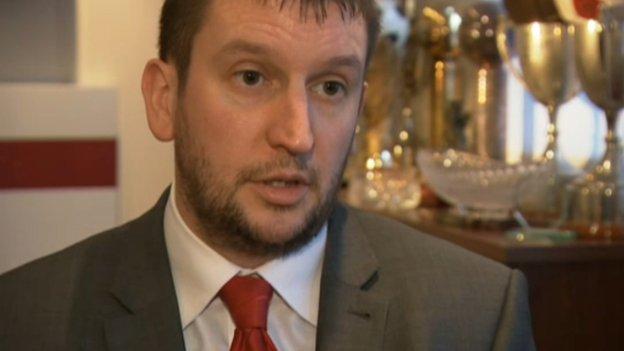 Accrington Stanley managing director Robert Heys has been suspended from football for 21 months for 735 breaches of Football Association betting rules.
Heys, who admitted committing the offences over 10 years at a hearing last Thursday, was also fined £1,000.
Of the offending bets, 231 were on games involving Accrington and 37 of them were on Stanley to lose.
He has apologised via a statement on his website, but is to appeal against the length of the ban.
"Anyone who knows me personally will know that I only ever want a win for my team," said Heys, who revealed he lost £421 on the bets involving League Two club Accrington - now managed by former England striker James Beattie - and more than £2,300 in total.
"This has always been the case and, on occasions when I have very occasionally bet against my club over the last 10 years, I would always have been very happy to lose the stake and take the result.
"I have not staked any bet of any kind on Accrington Stanley for over three years. Furthermore, I have not placed any bet which would contravene the betting regulations for over 10 months.
"I have rightly suffered because of my actions, and the lengthy suspension that has been imposed upon me should be viewed as a warning to those involved in football as to the consequences of such irresponsible actions."
Heys, who switched roles from chief executive to managing director in May last year, said he accepted he had broken the rules and must be punished, but described the length of the suspension as "severe and inappropriately harsh".
He continued: "I fully intend to appeal against the excessiveness of the penalty in an effort to get it reduced so that I may work towards resuming my career within the football industry."
on 14 August for breaching betting regulations, while
However, it is believed neither player were charged over bets relating to games in which they or their clubs were involved.
In a statement on the club website, chairman Peter Marsden said: "Accrington Stanley Football Club recognise the important and valued work Rob Heys has carried out for us over many years, often in trying circumstances, but are also extremely mindful of how grave an offence breaches of the FA and Football League betting rules are.
"Rob has been suspended from working for the club pending the outcome of his appeal to the FA. This is thought to be taking place in about four weeks' time. He has already resigned as a director.
"I have today asked the FA for all the background papers and documents relating to the case so that they can be examined by the board of directors.
"In the meantime we have a football club to run and an interim steering team has already been in place for the last two weeks and this team will continue in place for the immediate future."