Plymouth Argyle can win promotion - John Sheridan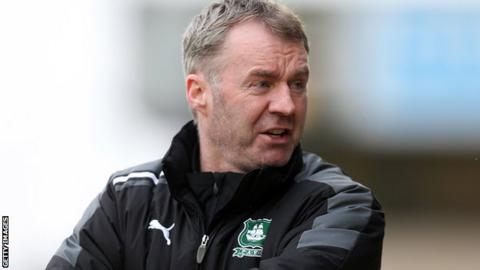 Plymouth boss John Sheridan says his side can challenge for promotion after earning their first points of the season with a 3-1 win at Cheltenham.
Argyle survived in League Two by just one point last season and made a shaky start to the new campaign but Sheridan is optimistic of a real improvement.
"I don't want to talk about relegation, I want to talk about play-offs and promotion," he told BBC Radio Devon.
"I think we can get out of this league in my first full season at the club."
Sheridan added: "If that puts pressure on me then so be it. I've got to get that into the players."
Defeats against Southend and Fleetwood Town - which came as a result of listless performances - had knocked the pre-season optimism of Sheridan and his players, but the manager said he hoped the result against Cheltenham would restore some momentum to Argyle's season.
"If we perform like we did against Cheltenham the fans will support us non-stop but if you play like we did at Southend and against Fleetwood then it's not good enough," he said.
"I'll accept losing football matches but the manner in which we lost the first two league games wasn't good enough and we didn't deserve anything from the games."
"This was a good performance and you can just feel a bit of a lift.
"We've done things a little bit differently on the training ground. The players have taken on board what we're trying to do and where we're trying to go."
Argyle went 3-0 up in the first half thanks to goals from Marvin Morgan, Conor Hourihane and Romuald Boco, but Sheridan insisted there was still room for improvement.
"I might moan when we're 3-0 up because I'm still looking for things we can do better," he said.
"That's the way I am - we're not a good enough team to take our foot off the pedal.
"Cheltenham are a very good home team but in the first 10 minutes we got away with a couple of things which we didn't against Fleetwood - that's football.
"After that we looked very comfortable. Obviously getting three goals in the first half is always a good cushion for you to take into the second half but I thought it was a very good all-round team performance."