Guernsey FC boss Tony Vance admits 'naivety' cost his side
Last updated on .From the section Football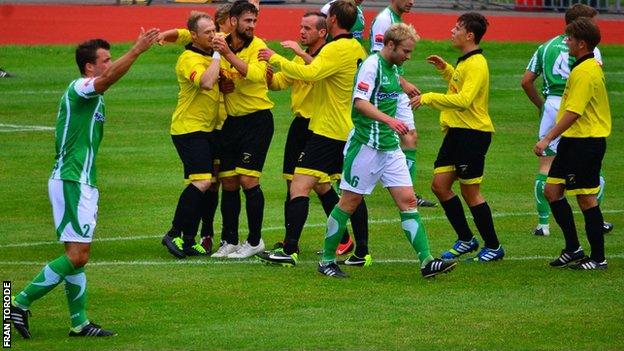 Guernsey FC boss Tony Vance says his side were "naive" in their 4-0 defeat by Ramsgate at Footes Lane.
The Green Lions were 4-0 down at half-time, and a much-improved second-half display came too late to make any impression on the result.
"I think we've learned a lesson. Perhaps we've been naive in how we set ourselves up," Vance told BBC Guernsey.
"Going forward, we need to concentrate our efforts on certain things before we have a right to win a football match."
Ollie Schulz, James Everitt (2) and Ian Pulman grabbed the goals for Ramsgate and Vance added: "The first 45 minutes of naivety cost us the game."
"The boys took things on board and it was a much better second half. They had a four-goal cushion but we had some great chances - you have to be clinical, they were, we weren't."
The defeat followed on the heels of a home loss to Horsham, but Vance was keen to point to the bigger picture with the club competing at the highest level it has experienced since its formation in 2011.
"Why was Guernsey FC set up? It was to try to improve footballers, coaches and football itself in Guernsey," said Vance.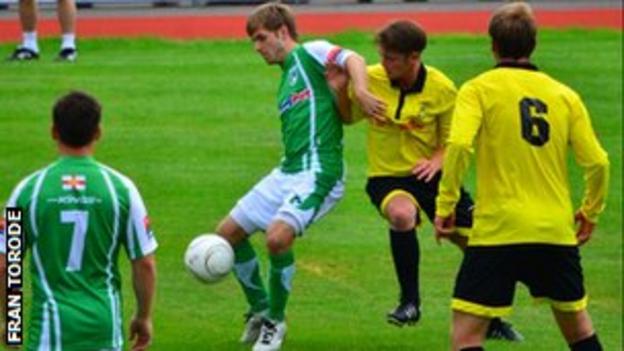 "So far we've done it but now we're at a level which we know is going to be tough. It's almost a professional level because these players we play against are all paid a lot of money to play football.
"We're just a little old island off the UK - but the players have improved and developed and shown in the second half that they can go up a notch. It might take us the whole season to do that but I believe we can do that."
Vance said the team's lack of a pre-season programme of matches was a factor, but said the financial issues made it impossible to justify
"Every game will cost us £4,000 so if we're to get the fitness required to get us to the level that all the other teams then we're talking £20-30,000," he said.
"If you think that's a good way to spend money rather than for the club to survive then of course I'd agree with you but it is what it is and we have to deal with it."