Mat Sadler calls on Crawley Town to 'man up' in defence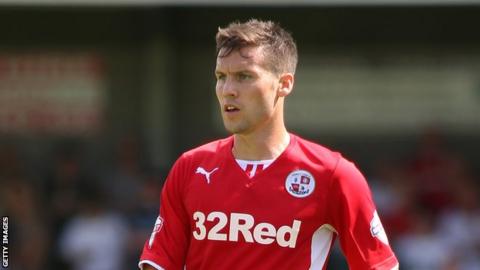 Crawley Town defender Mat Sadler says the team will have to "man up" in order to improve their defensive record.
The Reds have conceded 11 goals in their four games in all competitions this season.
The 28-year-old told BBC Sussex: "That is not a recipe for a successful season. We have to put that right.
"It is four corners in four games [Crawley have conceded from]. There has to be a switch in mentality and we have really got to man up."
The West Sussex side threw away two-goal leads against Coventry and Cheltenham in their opening two games of the season and then conceded a last-minute equaliser at Tranmere.
They fell to their first defeat of the League One campaign on Saturday when they were beaten 2-1 by Rotherham United at the Broadfield Stadium.
Sadler said he was "angry and frustrated" to have conceded from another corner against the Millers.
"From now on we have to get ruthless with each other," the former Watford and Walsall left-back said.
"You've got nine or 10 lads in the box all designated a marker. First balls will get won in the box as some people are bigger than others and people get runs on others.
"The second ball is, nine times out of 10, where the goal is scored.
"Once again a second ball in the middle of our six yard box gets poached in.
"That is not a defensive or back four problem. That is a problem for the whole team.
"We have to put that right and be more aggressive in the box.
"It will be a long season if we give teams a one-goal head start every game."