Nigeria U-17 players fail age tests ahead of the World Cup
By Oluwashina Okeleji
BBC Sport, Johannesburg
Last updated on .From the section Football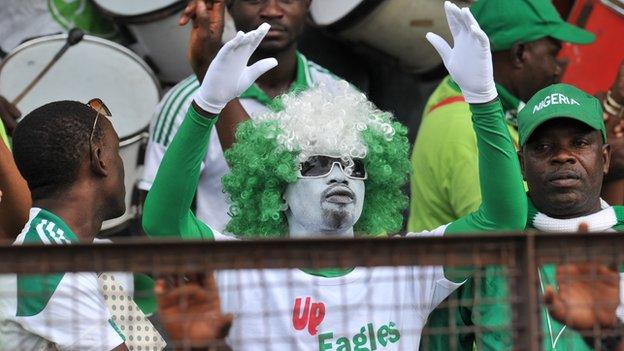 Nigeria will be without key players for the Fifa Under-17 World Cup in October after wrist scans showed them to be over the age limit.
The squad, which finished as runners-up at the 2013 African Under-17 Championship in Morocco, underwent MRI scans in Abuja to help determine their ages ahead of the upcoming World Cup in the United Arab Emirates.
Magnetic Resonance Imaging (MRI) was used to scan the wrist plate of players to accurately ascertain their true age, with only players between grade 1 and 5 of the scan eligible to participate.
But Manu Garba, coach of the Golden Eaglets, insists he will still be able to choose a strong squad, despite losing several players.
"We are not oblivious of the challenges posed by the MRI since we started this campaign because the players are growing," said Garba.
"But imagine a scenario whereby a player who was on Grade 4 in April has grown to grade 6 in July but what can we do than to call on other players from our reservoir.
"We are working in conjunction with the Nigeria Football Federation (NFF) to esnure that only eligible players will represent the country at the World Cup and we are on the right course.
Nigeria have won the Fifa Under-17 World Cup three times - 1985, 1993 and 2007 - but fans and media alike have long questioned the ages of some of the player representing the country.
Former African footballer of the year and Nigeria under-17 assistant coach Emmanuel Amuneke was quick to dismiss age-cheat allegations and remains optimistic about the prospect of the team despite obvious challenges.
"We know that this journey was going to be full of challenges when we started," Amuneke explained.
"But we have been transparent enough as regards the twin issue of player selection and the MRI test and it is important for the public to be well educated on this matter.
"The truth is that these players have not remained the same since we picked them almost two years ago because they have been training and eating well and their growth is expected, but we shall overcome the setback."
Football's world governing body Fifa introduced MRI scans to check the ages of players at the 2009 Under-17 World Cup, which took place in Nigeria.
African champions Ivory Coast, runners-up Nigeria, Tunisia and Morocco - have qualified for the Fifa Under-17 World Cup in United Arab Emirates from 17 October to 8 November.
The official draw for the tournament will take place on August 26 in the UAE.