Exeter City appoint Guy Wolfenden as new chief executive
Last updated on .From the section Football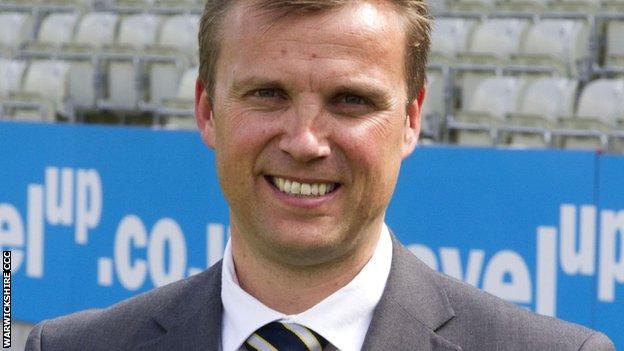 Exeter City have named Warwickshire County Cricket Club commercial director Guy Wolfenden as chief executive.
The 40-year-old, who officially starts at Exeter on 1 October, replaces Julian Tagg in the position.
Tagg will take on a revised role, focusing on working with the coaching staff to develop the Grecians' footballing structures, and taking responsibility for the club's academy.
"I'm delighted to be given the chance to take up the role," said Wolfenden.
"I am genuinely excited to be able to work with the Supporters' Trust, board and all the staff to continue to build on the fantastic supporter and commercial support the Grecians currently enjoy and to continue providing exciting football for all to watch."
Tagg has been involved at Exeter in a variety of roles for around 17 years, stepping up as acting chief executive in 2011 following the departure of Norrie Stewart and combining the role with his responsibilities as executive director of football.
"It's been a privilege and pleasure to have responded to the request to the work on an interim basis with the current boards, staff and volunteers to ensure stability and continuity across the whole club for the last two-plus years," said Tagg, who will remain as a director and vice-chairman of the club.
"Guy's introduction will bring vast experience and drive which will allow him singular focus on commercial, sales, marketing, operations and communications meaning I can return my focus to my first loves - the academy, the Football in the Community charity and football, where there is much to be done.
"I remain fully committed to the cause, to continuing to deliver my best as a member of the board and very much look forward to working with Guy."
The Exeter City Supporters' Trust took over the ailing club in 2003 and Laurence Overend, the chair of the trust, was involved in the recruitment process.
"When speaking with Guy I have been struck by his enthusiasm and commitment to supporter engagement," said Overend.
"He has a proven track record in the commercial field of sport and although his background is in cricket, he clearly grasped the issues that are involved in being the CEO of a supporters-owned League Football Club. I have no doubt he will be very successful in his new role."