Charles Green: Rangers consultant to leave Ibrox

By Chris McLaughlin
Senior Football Reporter, BBC Scotland
Last updated on .From the section Rangers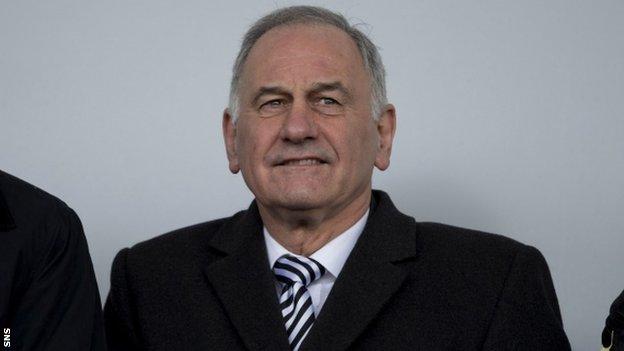 Charles Green has agreed to stand down as a consultant at Rangers and sell his shareholding in the club.
It follows discussions by conference call with the Rangers board and repeated calls for him to go.
The man who led a consortium to buy the club last summer has been under pressure to walk away following infighting at boardroom level.
He quit as chief executive in April following allegations about his dealings with former owner Craig Whyte.
Green holds five million shares in Rangers, approximately 6.9% of the total in circulation, while market rules prevent any sale until December.
The Yorkshire businessman previously indicated that he would be willing to sell his stake in the club to Sandy Easdale, owner of McGill's Bus Service in Greenock. Easdale, who owns the firm with his brother James, purchased 1.2 million shares in Rangers last week worth £498,000, increasing his individual stake to 2.1%.
And a spokesman for the Easdale family said: "Charles Green has given first refusal of his shares to Sandy Easdale as he promised. Sandy may take all or some of the shareholding depending on the strategic requirements of other potential investors."
Green's time at Ibrox included high-profile fallouts with manager Ally McCoist.
Rangers announced on 2 August and he was quick to alienate McCoist, suggesting the manager was under pressure to deliver a cup as well as the League One trophy.
McCoist responded angrily,
The return of the outspoken Green also corresponded with Walter Smith resigning as chairman, with the former manager referring to a "highly dysfunctional environment" at board level.
On departing, Smith voiced his support for the bid being made by former director Paul Murray and Frank Blin to join the board, while Green openly ridiculed the faction seeking to gain influence at the club.
Fans' groups were angered by Green's comments and called for the club to reconsider his appointment.
Green's spell as chief executive ended when he resigned with immediate effect, citing the "negative publicity" surrounding an independent investigation, commissioned by the club's board, into allegations of undeclared dealings with Whyte.
That of Rangers' business and assets.
Under Green's stewardship, Rangers raised £22.2m via a share offer in November 2012 and began trading on London's Alternative Investments Market (AIM).
Club funds have since shrunk to £10m despite more than 30,000 season-ticket sales.
Rangers said in a statement to the London Stock Exchange: "Following today's board meeting a discussion was held between CEO Craig Mather and Charles Green.
"The result of those discussions is that the consultancy agreement between Rangers and Mr Green has today been terminated by the company with immediate effect."
And the club also stated on its website they were "actively seeking a new chairman".
"This board has been working tirelessly to find an intelligent solution to the request for a general meeting and all of the directors are open to sensible and reasonable additions," the statement continued.
"For instance, the board are not against Frank Blin becoming a director but do have reservations about other proposals.
"Even so, the directors remain hopeful compromise can be reached."