Gambling rife in Scottish football, says Kevin Kyle
Last updated on .From the section Football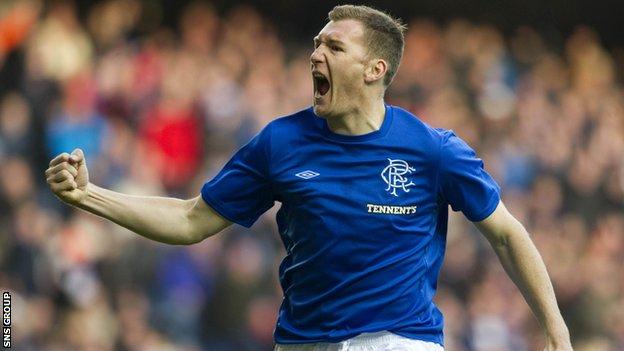 Former international striker Kevin Kyle says gambling on football games is widespread among Scottish players.
"It's just the culture we are in," the free agent, 32, told BBC Scotland. "Gambling is rife within football.
"If you go into any football team in Scotland, the majority of players will be putting on coupons each week."
Kyle, who played with Black at Rangers and Hearts as well as having spells at Kilmarnock, Coventry and Sunderland, admits to having had a serious gambling problem.
The front man, capped 10 times for Scotland, believes the authorities are right to address the issue but thinks it will be difficult to stamp out such prevalent behaviour.
"It's everywhere in football, from the juniors up to the top level," he added.
"The SFA want to eradicate it and I believe that is the right thing to do because it is a big problem.
"But they have opened up a can of worms and it's going to be a hard thing to achieve.
"You've got 42 senior teams in Scotland and you are looking at on average six or seven players per team (gambling on football).
"That's nearly 300 odd players before you get to the junior level.
"Being involved in the game, you have a little more knowledge than your average punter.
"Footballers think they have an advantage and at the end of the day they are just trying to make a few extra pounds by betting on a football coupon on Saturday.
"Some people do it for just a bit of fun and others do it because they have a problem, they can't help it.
"From my own experiences, I realise it's the wrong thing to do.
"It's a huge problem in the game and something that needs to be looked at.
"We all know we shouldn't do it but it's very easy for me to ask a friend to go and put a bet on for me. That bet can be put on by a third party with the money coming back to me and the betting company doesn't know."
PFA Scotland's Jack Ross believes the SFA should re-examine its rules on betting.
The union runs a gambling awareness programme in conjunction with an addiction counselling service.
"Should a player in Scotland's Second Division be banned from betting on a Champions League game? It's a good question and one that should be looked at," said Ross.
"It comes from Fifa who want to protect their big international tournaments like the World Cup. It is they who say they don't want any betting on football but they don't take too much to do with how it is governed locally.
"In England it is competition-specific but the SFA have taken the decision to take a zero-tolerance approach to the whole issue of gambling on football.
"I suppose that begs the question about whether or not it should be enforceable or not and whether it is reasonable to deal with the issue in this way."
In England, Stoke striker Cameron Jerome was recently fined £50,000 for repeatedly breaking Football Association betting rules.
The charge was not related to match fixing or betting on games he was involved in.