Alex Oxlade-Chamberlain: Arsenal midfielder 'out for three months'
Last updated on .From the section Football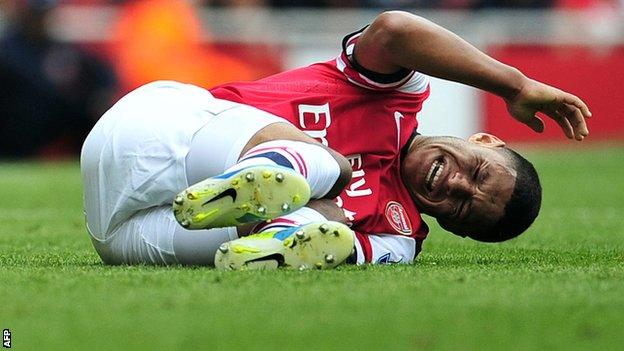 Arsenal's Alex Oxlade-Chamberlain has revealed he could be out of action until November.
Manager Arsene Wenger said on Tuesday he expected the midfielder to miss "at least" six weeks.
But the player tweeted: "Gutted I'm injured so early in the season. But I'm going to be working hard to hopefully be back playing in three months."
He is likely to miss England's World Cup qualifiers against Moldova and Ukraine next month.
Wenger said Oxlade-Chamberlain may not require surgery but added: "He will be out for at least six weeks. He has a posterior cruciate problem, a ligament which is stretched."
Arsenal have already suffered injuries to key players such as Mikel Arteta this season while fringe players such as Andrey Arshavin, Denilson and Sebastien Squillaci have been allowed to leave.
In June, Arsenal chief executive Ivan Gazidis said the club had the financial firepower to spend heavily in the transfer window, which closes on 2 September.
But despite bids for Liverpool striker Luis Suarez and Newcastle midfielder Yohan Cabaye, French youth international striker Yaya Sanogo, 20, remains the only signing this summer.
That has left some fans frustrated and many chanted for the Frenchman to strengthen his squad following the defeat by Villa.
However speaking to reporters in Turkey ahead of Wednesday's Champions League play-off first-leg meeting with Fenerbahce, Wenger defended his record in the transfer market.
He said: "I would like to reiterate in the last 16 years we have been very successful with transfers.
"If you look at the players who play tomorrow, they are top-quality players, and you should never forget that."
The Arsenal manager also defended his club's approach for Cabaye.
Newcastle boss Alan Pardew left the France midfielder, 27, out of his side's game at Manchester City on Monday following the Gunners' bid for the player.
Pardew later criticised Arsenal for the timing of the approach following his team's 4-0 loss.
But Wenger said: "We don't want to hurt anybody, not Newcastle, not anybody.
"You can't reproach us on one side for not buying and yet on the other side, when we try to buy, reproach us as well. That is a bit contradictory.
"It is not down to me to explain to you everything I do. It is impossible.
"If we do a transfer, we will announce it. We always inform you. As for the rest, you have to leave us to do our own things.
"It is not always to think what is outside is better than what you have.
"What is important as well is to rate what you have and our fans have to understand that as well."