Rangers: Imran Ahmad shareholding sale confirmed
Last updated on .From the section Football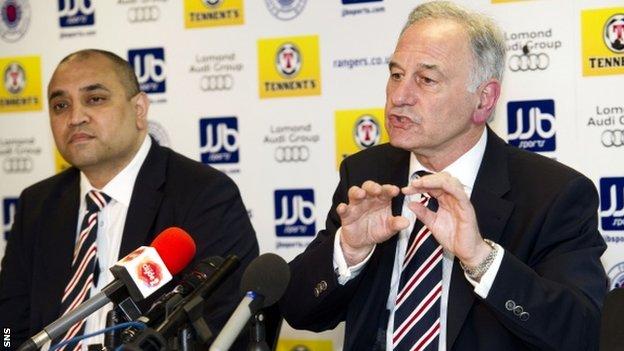 Former director Imran Ahmad has sold his shareholding in Rangers, the day after the the club have announced.
The League One side told the London Stock Exchange that Ahmad "no longer has a notifiable interest in the company's issued share capital".
Former chief executive Green agreed to stand down as a consultant following opposition from fans and board members.
But Rangers still oppose an emergency meeting being held for further changes.
Rangers told the Stock Exchange: "Further to the announcement of 2 August 2013, the board is holding discussions with representatives of the requisitioners with the aim of avoiding the need for a general meeting, at this time, and the associated unnecessary cost and disruption to the company.
"The board's aim remains finding a solution to achieve stability and unity among all stakeholders for the benefit of the club.
"The board is actively seeking a new chairman and the directors will also consider other additions to the board in order to ensure board efficacy at all times."
Current chief executive Craig Mather has faced calls to be removed from the board, along with Brian Stockbridge and Bryan Smart, and replaced with former Rangers director Paul Murray and Scottish accountant Frank Blin after a group of shareholders called for an extraordinary meeting.
Rangers have reiterated that directors have an open mind about the appointment of Blin "but believe the other proposed resolutions are not in the best of interest of the company and shareholders as a whole".
Supporters Trust spokesman Mark Dingwall believes an emergency meeting is still needed to resolve splits that remain within the League One club's board.
"It's now looking as though the EGM is the only place where we are going to have the chance to have an adult discussion about the issues and to bring the matter to a head," he said.
"If the current board doesn't want to reform itself then I think it is going to have to be reformed at the EGM.
"The status quo and a little bit of tinkering simply won't work."
following messages that were posted on a fans' forum and it was subsequently reported that he is planning to sue the club for £3.4m.
Rangers' statement about his shares follows last week's news that two separate blocks of one million shares were sold for £425,000 each.
That was in addition to Laxey Partners, an Isle of Man hedge fund, increasing its stake to 4.99%.
Green, who led a consortium that purchased Rangers' assets last year, had resigned as chief executive in April amid accusations of links with former owner Craig Whyte.
An internal club investigation having found no evidence of such links, the Englishman returned as a paid consultant earlier this month.
However, Green was publicly critical of manager Ally McCoist and his return to Ibrox coincided with former team boss Walter Smith
Following a meeting earlier this month with Mather,
News of his departure came hours ahead of a board meeting to consider the Englishman's future as a consultant.
"I think it was entirely the right decision," added Dingwall.
"I think his position became untenable through his own behaviour, including his statements to the press.
"I don't think there was really much option but for him to go."