Richard Brittain: Wife condemns Twitter abuse after contract U-turn
Last updated on .From the section Ross County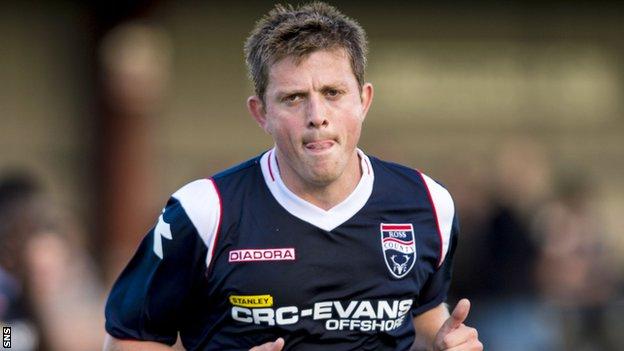 Footballer's wife Diane Brittain has condemned fans she says have directed abuse at her husband for reneging on an agreement to join St Johnstone.
On her internet blog, she explained that midfielder Richard Brittain's decision to remain at Ross County resulted from her "horrific pregnancy".
"I can understand fans in Perth being disgruntled," she wrote.
"But that doesn't excuse some of the disgusting abuse they have subjected my husband to on a daily basis."
Brittain joined County from St Mirren in 2008 and helped the Dingwall club win promotion to Scotland's top flight for the first time last May.
The County captain in the summer, but his change of mind for him remaining in Dingwall.
In a heartfelt blog, his wife revealed that it had also resulted in the 29-year-old becoming a target for Twitter "trolls".
"I escaped with relatively no abuse despite people assuming we stayed because of my awful pregnancy," she said.
"My husband, however, has taken a lot of stick and been accused of being offered more money and getting greedy.
"One fan even made a comment on a photo my husband posted of my daughter's toy. Too far!"
Mrs Brittain, who is a volunteer for Pregnancy Sickness Support, said that her husband had mainly kept "a dignified silence" but felt she had to speak out now.
"," she said. "It was decided that was what was best all round in order for me to recover.
"Doesn't everyone make decisions based on what is best for their family?
"What other people think means little to me, but it's gone too far when the person who has been my biggest support is getting abuse on a daily basis."
Mrs Brittain explained that, following their daughter's birth in September, she had suffered from post-natal depression.
"After a horrific pregnancy, I was looking forward to feeling normal again and enjoying life as a mum," she recalled.
"Unfortunately, as the days and months went on, the crying continued and I got so low that I wanted to go to sleep and never wake up again."
Mrs Brittain said that it took her four months to admit she had a problem to her doctor, by which time the decision had already been made to move to Perth.
"We quickly realised that a move, any move, wasn't in the best interests of our family," she added.