Can Greg Abbott turn Carlisle around amid relegation talk?
Last updated on .From the section Football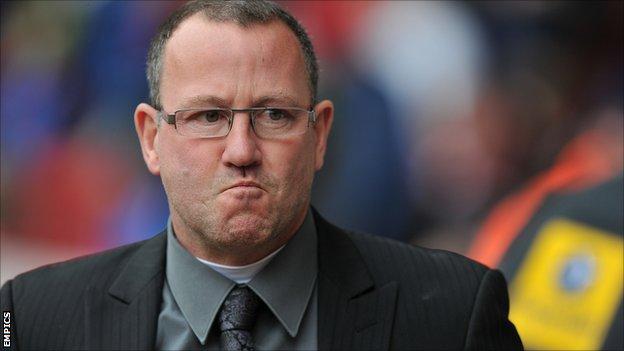 Greg Abbott's current status as the third longest-serving manager in the country with Carlisle United is in doubt as the Cumbrians have made their worst start to a season in their 109-year history.
Three straight league defeats and 13 goals conceded - with just one in reply - have increased the pressure on Abbott, who sits behind Arsenal boss Arsene Wenger and Paul Tisdale of Exeter in the longevity rankings.
after the a result that saw the club kept off the foot of the table only by virtue of their victors' points deduction.
Since he replaced John Ward at Brunton Park on a caretaker basis in November 2008, before taking the job permanently the following month, the former Coventry and Bradford midfielder has brought success to Carlisle.
The 49-year-old led them to consecutive Wembley finals in 2010 and 2011, beating Brentford in the latter to lift the Johnstone's Paint Trophy, and took his side to the cusp of the League One play-offs in 2011-12.
However, last season the failure to build on an eighth-place finish resulted in a battle against relegation that ended with United 15th in the table, after a run of only three wins in the last 16 games.
Off the field, finances have been stretched by tumbling attendances, with an average of 4,128 - just 24.7% of capacity - which was down on the previous year's total of 5,247 and the 2011 figure of 5,207.
Has Abbott done all he can can with Carlisle? Or does he deserve time to turn things round? BBC Sport has sought the views of those close to the club.
The manager's view
Carlisle United boss Greg Abbott
"I'm not stupid. We'll stand with the group and I will fight with that group, and we'll turn it round given time. If we don't then that's something other people have to look at and see if it needs to be altered.
"At the minute I desperately, desperately want to turn it round and show people the last five years haven't been a fluke.
"They [the board] want me to win games; they haven't given me any ultimatum. I don't care; I just try to win games and if I had been winning 5-0 I would still be trying to win the game. I wouldn't think, 'well, I have won 5-0 so I am OK to lose one, there is no problem'.
"I am a dead honest guy who takes the truth and works with the truth and doesn't flavour anything and doesn't shirk from anything. I don't really need people in the street telling me what is going wrong because I know. If somebody in the street would tell me how to put it right then I might listen.
"Because I am sat in this chair, you are in a bit of a firing line, which I accept is the norm - it is the industry. They [fans] might be cheering us if we win the next 10 games on the bounce; they might be thinking I am a fantastic manager again. But I won't be any different. I will still be determined to win that 11th game and I will still want to do the job properly."
The board's view
Carlisle United Trust chairman and fans' representative on board of directors, Norman Steel
"Everyone accepts that we are in a bit of bother, but it is hardly the end of the world just yet.
"We are three games into the season. We have been missing, in no particular order of senior players, Danny Cadamarteri, Chris Chantler, Mike Edwards, Lee Miller, Sean O'Hanlon, Matt Robson and Paul Thirlwell.
"There must be about over a thousand league games in terms of experience in there. That has to count for something within the rigours of League One, which is essentially about strength and pace and power.
"If you had those players missing for all or most of the season then something has to give. There has been a greater emphasis on youth this time round, so we have had to give these young lads a chance. I for one will be getting behind the team at every opportunity, and in particular behind the younger players in the squad.
"Certainly the defensive side of the performances has been poor. That is something that the manager and his staff will need to get to grips with very quickly in order to try to turn this around. I am by no means giving up on anyone just yet.
"Let's just look at one game at a time. Let's see if we can get some sort of positive result and get the season rolling."
The journalist's view
News & Star football writer Jon Colman
"It's gone beyond frustration to borderline out-and-out despair with the extent of how poor the team has been this season.
"It seemed on Saturday in the crowd and in the reaction since, which hasn't faded and died down, that people feel it has gone too far, and it is time to act and make the big change that people feel is necessary.
"People are voting with their feet or making their voices heard and, either way, it is not good news. You can't tell them they're wrong because the evidence is right there in front of us.
"It strikes me the board have a lot of thinking to do at the moment. They don't want to do that publicly, but while there's silence it allows people to think and wonder whether they're ignoring it or just privately mulling things over.
"I think it would be astonishing if they weren't considering acting with regards the manager, but Greg Abbott is still there. He still believes he can turn this round after a horrendous start."
The ex-player's view
Former Carlisle United player and BBC Radio Cumbria summariser Chris Lumsdon
"Greg's a passionate man and he'll believe he can turn it round. Every manager believes they can turn it round. He has to believe in his players because if he starts hammering them it's going turn even more and he won't get a performance from them.
"I'm struggling to explain what has happened after three results that are borderline embarrassing. I'm down and disheartened.
"Supporters like him as a person - you buy into what he's saying - so when it comes to the Saturday and it happens, you feel let down 10 times over.
"There have been signs, with nothing coming out of the club and the fact Greg has spoken in the media about liking to have the game on Friday, that things aren't all that right.
"The thing I worry about is the players will know that something is going on and Greg could be out after Friday, and they'll be onto their agents to find out and wonder about their future.
"Some will have made their mind up, thinking maybe it's time for a change. When I was on a run of defeats, you do start to question yourself. But you also question the people around you and the management and I just hope that atmosphere is not in the changing room."
The fan's view
Carlisle United blogger Jake Phillips (Bring Me The Head of Keith Mincher)
"I've always been a staunch supporter of Greg Abbott and consider that he has, up until now, been the best man for the job. Two Wembley cup finals, year-on-year improvement up until last season and stability that the club as a whole so badly needed, led to his rising stock within football circles.
"He's a good man with the club's best intentions at heart, but now is the time for him to move on. His inability to walk the walk after talking the talk over the past 12 or so months has made his position almost untenable.
"His failure to address the issues in defence has added to the current dismay among fans. The sale of Paddy Madden to Yeovil proved to be an error of judgement, with the now Republic of Ireland international going on to be the 20-goal-a-season striker that Carlisle fans had craved.
"I'm not convinced that the club are in a position financially to dispose of Abbott just a few weeks into the season, but, with crowds falling yet again and no sign of improvement on the pitch, this may be the only option if the club are to get fans back on side and move forward.
"Sacking him would be no quick fix to the club's difficulties and it'd be naive to suggest our natural level is any higher than in the division's mid-to-lower reaches, but he's the easiest element of the current regime to remove.
"It's time for him to go before he's remembered as being a failure rather than a man who has brought relative success to the club."
The BBC Sport website will have a feature on football below the Premier League every week as part of our Football League Friday series.