Exeter City chief executive Guy Wolfenden focuses on finances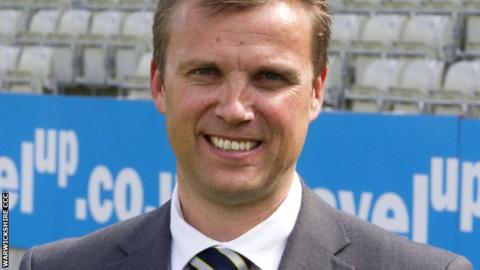 Exeter City's new chief executive Guy Wolfenden says his main focus will be on bringing in more money to help strengthen the playing squad.
The 40-year-old said he was keen to use the commercial expertise and experience he has gained in county cricket.
"I'm very keen to take a lead on the commercial side to help Paul Tisdale put out the best team possible," Wolfenden told BBC Radio Devon.
"We'll be sensible on price but we need to bring in as much money as we can."
The Grecians are a supporter-owned club, which has encouraged great stability at St James Park.
But one result of the ownership model has been that Tisdale - the longest-serving manager in the Football League - has had to operate with a very small transfer budget.
"As a supporter-owned club, we don't have any debt," said Wolfenden. "Admittedly we don't have someone with a big bank balance in the background but at the moment we're led by the fans and that's very much the way we want it to be.
"We want to help Paul have the best players for the fans to come to watch."
Wolfenden has worked at Warwickshire and Somerset County Cricket Clubs in commercial roles, and he said he could see some parallels between the two sports.
"It's a fantastic opportunity - I've enjoyed my time in cricket but I'm delighted now to be involved in Exeter and I'm really looking forward to it," he added.
"My experience is on the commercial side - ticketing, sponsorship, season tickets and so on.
"Within cricket, there are a number of very popular games but there are also quite a number of not so popular games, so it's a case of how do you maximise the opportunities you do get? That's the way I'm looking at it at Exeter too.
"There will be a number of occasions where we know we can hopefully get a full ground and it's how you use those games to provide opportunities for the other games and maximise the income the club generates."