Matt Bloomfield column: 'I could have thrown in the towel'
By Matt Bloomfield
Wycombe Wanderers midfielder
Last updated on .From the section Wycombe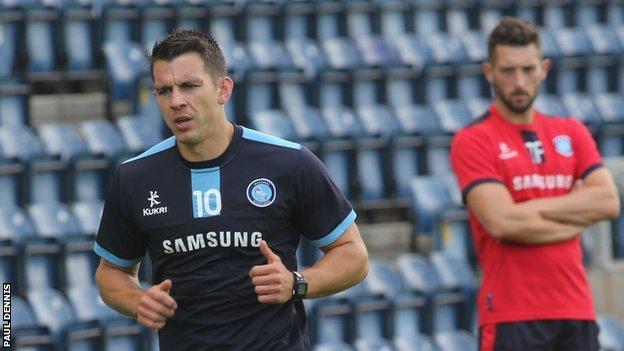 The Football League season has been with us for a couple of weeks and it's been an exciting start to the new campaign.
League Two will, as always, be an extremely competitive league with everybody beating everyone else. The successful teams will be the teams who put runs of results together.
Even if that's two or three wins in a row, those blocks of points soon add up. The key to a successful season is not letting one defeat become two, three or four in a row.
There must be a dozen teams with a realistic chance of getting promoted. Oxford and Southend have been in imperious form in their first three league games, but teams with the quality of Fleetwood, Chesterfield and a club the size of Portsmouth will definitely have something to say in the promotion race before the end of the season.
The summer break was totally different for me than previous years. The holidays abroad and trips home to visit family were replaced with sessions in a gym in Reading and volunteering in Kenya.
The trip to Kenya was, looking back, a massive boost to me mentally. It was truly inspirational and although I was working whilst I was out there, it was a complete mental rest from the four walls of the gym where I had spent the previous untold weeks,
I feel great now and I feel in a way like I'm being given a second chance at the career that I truly love.
I'm convinced that a lot of players in my position would have thrown the towel in months ago, but I have also heard stories along the way of other footballers who have gone through similar injuries and who have come out the other end. Drawing on these stories definitely gave me strength.
It's still a daily ritual of checking my groin strength, doing my core stability work and leg strengthening. I'm sure this will gradually decrease in importance, but at this moment in time it's imperative that I keep on top of all my work.
I'm entering my 10th season at Wycombe Wanderers and thus my testimonial year will be during 2014. It's an honour and a privilege to be granted this by the board and I thank them for that.
Testimonials are becoming less common in the modern era, so I am extremely proud of reaching this milestone.
First task though is to get back out playing and doing it to the very best of my ability.