Gareth Bale: Tottenham can fill void if forward leaves says Pleat
Last updated on .From the section Football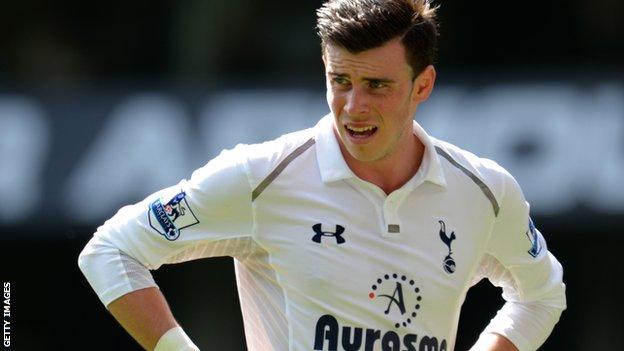 Former Tottenham manager David Pleat believes the club have enough good players to cope without Gareth Bale if he joins Real Madrid this summer.
Pleat says Jermain Defoe, Lewis Holtby and Gylfi Sigurdsson could step in.
"When you talk about a void, I don't think so. You're talking about top-quality players," he told BBC Sport.
Bale is currently out with a foot injury and is not expected to be available until the North London derby against Arsenal on 1 September, should he still be at the club by then.
The former Southampton player is believed to be the subject of a world-record bid from Real Madrid but on Wednesday Spurs manager Andre Villas-Boas denied a deal has been agreed.
The Portuguese boss did confirm that they are in talks about a deal for winger Willian, 25, but Pleat feels it is the current players who can succeed in the Welshman's role.
"I don't think there will be a void because Bale was playing as a second striker, not as a wide left player," Pleat, who managed Tottenham between 1986 and 1987, said.
"For example, had Bale been injured for some considerable time last season, Defoe would have played as the second striker with [Emmanuel] Adebayor.
"This year, for example, if they wish to play a second striker then Defoe can play that quite adequately.
"Holtby was excellent for Germany in that position in the European Under-21 Championship and I'm told Sigurdsson played very well on Sunday against Crystal Palace in that position."
Tottenham boss Andre Villas-Boas has spent heavily this summer already and Pleat believes goals will have to be shared among the squad if they are going to qualify for the Champions League.
Spurs finished fifth last season, a point behind Arsenal after relying heavily on Bale, who netted 26 goals in all competitions.
The London club have signed Brazil midfielder Paulinho for a fee of £17m from Corinthians and they spent £26m on Valencia's Spain striker Roberto Soldado.
They have also brought in 25-year-old French midfielder Etienne Capoue, 25, for a reported £9m from Ligue 1 club Toulouse and Belgium international winger Nacer Chadli from Dutch club FC Twente for a fee believed to be £7m.
"They have to share the goals around and I think they now have players more capable of doing that," Pleat, who was director of football at Tottenham between 1998 and 2004, said.
Pleat does not predict any problems with the new arrivals fitting into Villas-Boas' squad either.
"Top players can play with each other and it is not a problem," he added.
"It is important to get a formation that everyone is happy with and ensure there are no square pegs in round holes.
"If that can be done quickly then I'm sure it will not be too difficult to put those players into a group situation which is successful."