Mark Wilson targets longer Dundee United stay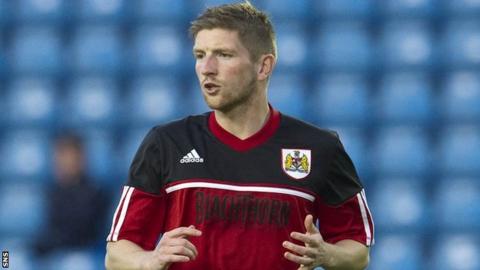 Mark Wilson hopes he can use his short-term deal at Dundee United to win a longer stay at Tannadice.
, having left Bristol City earlier this year.
"It's been a long summer, I've been without a club since the end of May and just found myself training by myself," he said.
"It gives me a chance to go to January, prove myself and try and extend the deal."
Wilson moved to Bristol in 2012 after a six-and-a-half-year spell at Celtic, who he had joined from United.
"It's been a difficult year for me since leaving Celtic and I'm very grateful for the chance to come back here to Scotland," Wilson told BBC Radio Scotland.
"Last year, things didn't work out for me at Bristol - not injury-wise, I just wasn't in the team.
"I'm very grateful to Jackie [McNamara] up at Dundee United for giving me a chance to try and prove myself.
"I was visiting Scotland and visiting a friend and I asked my agent if he could get me in training somewhere. Jackie was the one that was kind enough to give me that opportunity.
"I knew the club, there was a lot of old faces there from my time and I've got plenty of good memories from my time there, especially the Dundee derbies. When I played there, we tended to win more than we lost so they were good times."
And Wilson believes he can be an asset to the Tangerines' Scottish Premiership campaign.
"They've got one or two guys who are well experienced - John Rankin and Sean Dillon - so hopefully I can add to that," he added.
"There's a lot of young boys there who have got really great talent; a lot of quick players, very direct players.
"Maybe having another experienced player can bring them on.
"I still feel I can do a job, I still feel fresh and ready to go and hopefully I can continue where I left off for United."