Michael Laudrup wants transfer window to close earlier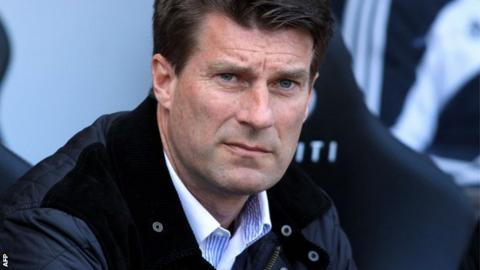 Europa League play-off: Swansea v Petrolul Ploiesti
Venue:

Liberty Stadium, Swansea

Date:

Thursday 22 August

Kick-off:

19:05 BST

Coverage:

BBC Sport website and BBC Radio Wales
Swansea City boss Michael Laudrup has added his voice to those calling for the transfer window to close prior to the start of the Premier League season.
The Dane is preparing his side to face Romania's Petrolul Ploiesti in the Europa League play-off round.
But key pair Michu and Ashley Williams continue to be linked with other clubs.
"I went to the Premier League managers' meeting and one of the questions asked was why we could not move the transfer deadline," Laudrup said.
"What is the reason to have it close after we have started the season here and in Spain and Germany?"
Swansea have not received any offers for attacker Michu and Wales captain Williams, a central defender, but they continue to be linked with a move to Arsenal.
The rumours are particularly unwelcome with the closure of the transfer window less than two weeks away.
Newcastle manager Alan Pardew and Chelsea boss Jose Mourinho have also stated their wish for managers to be able to start the season with a finalised squad.
Laudrup cannot understand why such a move for the Premier League does not have wholesale backing.
"It's part of the game and as long as the rules are like that we get on with it," he added.
"In the other big leagues there was not a lot of interest in moving it.
"I cannot understand why not, because every manager should be interested in having the deadline closed when they play the first game."
Laudrup said that with their domestic and European campaigns underway, losing key players from his squad would be devastating.
"It would do huge damage if we lose players of the quality of Michu and Ashley, because we have to find replacements at the same level and we cannot do that too late," Laudrup said.
"Because if I sell someone and try to buy someone else the next day, the price of your replacement goes higher, it's inevitable.
"But it's very close to this club's deadline as far as selling anybody goes."
Victory over Romanian side Ploiesti would earn Swansea a place in the Europa League group stages.
Swansea earned their place in the play-off round after completing a 4-0 aggregate win over Malmo, while Ploesti beat Vitesse Arnhem in the third qualifying round.