Everton have not received new Fellaini and Baines bids - Martinez
Last updated on .From the section Everton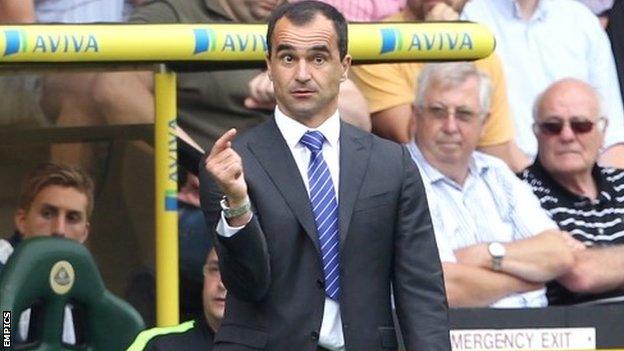 Everton have not received further bids from Manchester United for Marouane Fellaini and Leighton Baines.
"There's been no further approach," Everton manager Roberto Martinez said.
He said there had been no "temptation" to cash in, adding: "If someone matches the valuation then you have to make a decision but that's not been the case."
Former Everton manager David Moyes offered £16m for Fellaini, whose £23.5m release clause expired at the end of July.
United had a £12m bid for left-back Baines knocked back in June but came back with the same offer.
Speaking ahead of Everton's home game against West Brom on Saturday, Martinez added: "When you've got a bid that's below what the club has invested you are going to be angry, hurt and disappointed but he is the chairman [Bill Kenwright] and he is in control of the situation."
The ex-Wigan manager also said that the summer transfer window should be shut once the new season starts. His views echo the sentiments expressed by counterparts Michael Laudrup of Swansea and Newcastle's Alan Pardew.
"The transfer window is getting out of hand and it's starting to affect the league," he said.
"I know that you need to have the window but you can't have it open when the official games begin."