Gareth Bale: How Tottenham can thrive without Madrid-bound star

By Phil McNulty
Chief football writer
Last updated on .From the section Football1127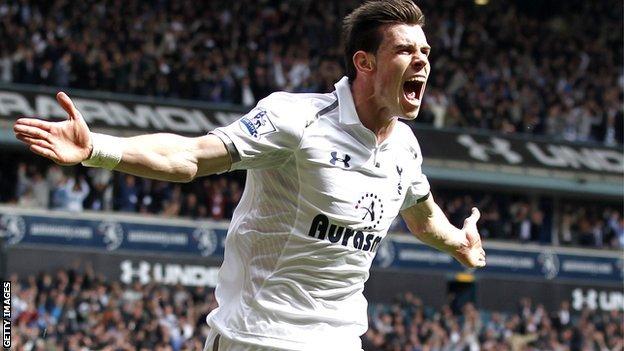 Gareth Bale - perhaps in the eyes of those looking to downgrade the efforts of Tottenham Hotspur - spent last season doing the work of several men.
And as Spurs chairman Daniel Levy concludes his latest round of hardball negotiating on the world-record deal to take the 24-year-old to Real Madrid, events appear to give weight to the unflattering theory.
The impending departure of Bale will leave a hole that cannot be filled with a simple like-for-like replacement so Levy, manager Andre Villas-Boas and supremely well-connected director of football Franco Baldini have embarked on a lavish refit of the Spurs team, armed with the money handed over from the Bernabeu.
Of course Bale will be missed by Spurs. It is ludicrous to suggest otherwise - but if the transfer plans put in place by those at the top inside White Hart Lane work out, this summer may yet be seen as a masterpiece of strategy and expectation management.
Spurs are losing their match-winner in Bale. Think back to some memorable moments from last season; the magnificent late winner at West Ham United and spectacular strikes at home to Southampton and Sunderland that kept their Champions League hopes on the boil until the last moment.
This is a special player. This is why a club such as Real Madrid, prepared to pay the biggest money to sustain the "Galacticos" line of succession, are willing to pay even more for Bale than they did to sign Cristiano Ronaldo for £80m from Manchester United in 2009.
When Villas-Boas stated at the end of last season that he had been assured "from the top" that Bale would not be sold, he was merely confirming the thinking inside White Hart Lane at that time. The feeling was that he would stay in north London for one more year.
What has changed? Quite simply the staggering fee on offer from Real, the player's own desire to move, and also the prospect that Spurs might actually use that money to emerge as an even stronger, more rounded team with the potency to ensure they do not come up short again in the battle for the Champions League places.
Bale brought the X Factor to Spurs, that something special that shaped matches and seasons. Anyone in close proximity to the benches at White Hart Lane during the second leg of their Champions League quarter-final against Real in April 2011 will remember the impression he made on Jose Mourinho. Real's then-coach turned to his backroom team with a look of astonishment and a sharp intake of breath after Bale outstripped a succession of defenders in an unstoppable demonstration of pace and athleticism.
Maybe some seeds were sown at Real that night, seeds that flourished to the point where they decided to pay a sum of such significance.
And yet Spurs, with the shrewd Levy and the bulging contacts book of Baldini at work, may just have defied some laws of transfer gravity with this deal. Instead of suffering the most painful fall at losing their most influential performer, they may have set up a soft landing.

Spurs have concluded their main business before the Bale deal is formally complete, thus easing some of the financial demands that might have been made upon them had they gone into transfer negotiations with sellers certain they had around £90m in the bank.
And whereas supporters would normally be expected to rebel against the sale of such an important player, Spurs' transfer dealings have created a mood of optimism and renewal around White Hart Lane. It means that when the Wales international does complete his move, they will feel comfortable moving into the post-Bale era.
It is quite a trick - although its ultimate success can only be judged in their results without him.
The evidence so far, however, is of a clear Spurs strategy and not some scattergun spending policy. Spurs may not be the same team without Bale but they look to have imported enough quality to stand comfortably alongside the talent already at the club.
Brazilian Paulinho arrived for £17m after impressing in the Confederations Cup. He brings real power to a midfield already containing the considerable presence of Sandro and Mousa Dembele.
Scott Parker and Clint Dempsey may have gone but Gylfi Sigurdsson and another new signing, highly-rated France midfield man Etienne Capoue from Toulouse, will more than make up for that.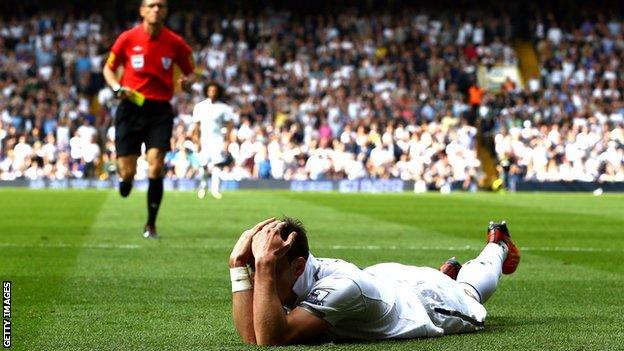 Spurs also beat off stiff competition to sign 23-year-old Belgium winger Nacer Chadli, a player working on his consistency but regarded as a rising star of the future.
Another name that will help Spurs fans cope with the departure of Bale come in the shape of the outstanding Spanish striker Roberto Soldado, who scored the winner from the penalty spot at Crystal Palace.
For all Bale's goals, it was perhaps the lack of striking options that damaged Spurs' Champions League hopes. Soldado has the pedigree to repair that flaw, as he showed with 30 goals in 46 appearances for Valencia last season.
Spurs were hopeful adding the exciting Brazilian Willian in a club-record move from Anzhi Makhachkala, but received a taste of their own medicine when Chelsea did to them what they had done to Liverpool and stole the player away.
The loss of the 25-year-old playmaker will be seen as a setback in an otherwise smooth summer of transfers, but it is clear Spurs' hierarchy have drawn up an impressive list of targets to acquire with the Bale money and it is unlikely they will waste any time moving on after Villas-Boas lost out to his old mentor Jose Mourinho for Willian.
Roma's talented Erik Lamela is also touted to move to north London while Real's top-class defender Fabio Coentrao may also join, either as part of the Bale deal or as a separate package.
So Bale may be on his way but this Spurs squad looks strong, and with variety, as Levy, Baldini and Villas-Boas plot a route back into the Champions League.
A question remains as to whether Bale's arrival in Spain will coincide with high-profile departures from the Bernabeu, with Arsenal showing interest in Real Madrid's Karim Benzema and Angel Di Maria, while Manchester United are linked with Luka Modric and Mesut Ozil.
The departure of such a stellar performer is often the cause for mourning among a fan base, accompanied of cries about a cash-in and lack of ambition.
None of this has been heard so far from around White Hart Lane.
As this chain of events reaches its conclusion, Spurs have turned this setback into a opportunity and look to have delivered an object lesson in how to sell your best player - and then move seamlessly towards the future.