Andy Williams: Swindon reveal Yeovil 'interest' for striker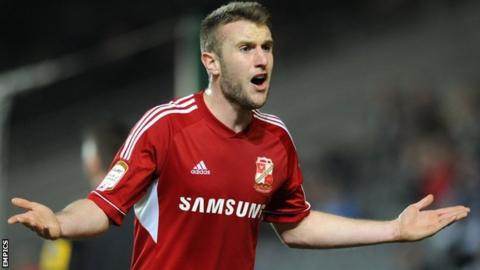 Yeovil have made an enquiry about re-signing striker Andy Williams, according to Swindon boss Mark Cooper.
Williams, 27, rejected a new deal with the Glovers last summer to join League One Swindon on a free transfer.
"I've heard there is an interest but nothing concrete. Things are ongoing," Cooper told BBC Wiltshire.
Responding to the claims, Yeovil boss Gary Johnson said: "Andy coming back would be a great. Whether that situation comes up we don't know."
Johnson continued: "Somebody has obviously put it out their end which is often how it starts.
"We're not quite sure if that's in Swindon's mind but it's something that would be exciting to get him back to add to the squad.
"But it's nothing we can talk about right at this moment."
Williams joined Yeovil in August 2010 from Bristol Rovers and finished their top scorer the following season with 17 goals in 39 games.
The Glovers tabled a club-record offer to keep the forward, but he opted to join Swindon and finished last season scoring 12 goals in 48 games.
However, it was Yeovil who secured promotion to the Championship via the play-offs, with Swindon falling at the semi-final stage.
Williams' only strike so far this term came against Torquay in the Capital One Cup first round.
Yeovil, meanwhile, have scored only two goals in their first four games this season and both came from midfielders - Ed Upson and Kevin Dawson.