Rangers: Ally McCoist happy to select Ian Black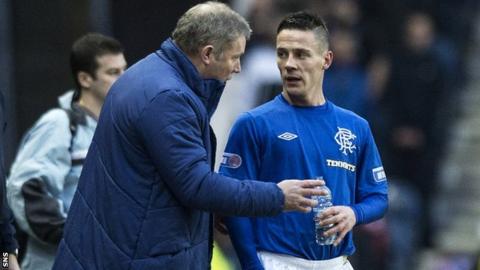 Rangers manager Ally McCoist says he has no problem selecting Ian Black despite allegations that the midfielder broke betting rules.
Black has been issued with a notice of complaint by the Scottish FA.
Asked if he has any issues selecting Black, McCoist said: "Not at all. Ian Black will certainly be in the squad for Friday night against Airdrie.
"The situation with Ian Black is in the hands of the SPFA and his own lawyer. He is available for selection."
Black was this week .
A zero tolerance policy is in place in Scotland, where players are restricted from staking money on any football matches anywhere in the world.
But a number of former players have come out this week to say .
And McCoist believes more effort is needed in making those involved in the game aware of the rules and regulations.
"What I'm asking for is for everybody to get around a table, whether it's the SFA, the players' union, bookmakers, whoever," he said.
"Let's all sit around a table and find out what's allowed, what's not allowed and then we can start again.
"That's all I can say because the rest of it is in the hands of Ian's lawyers."
An SFA spokesperson responded: "The rule is clearly stated in the judicial panel protocol.
"Team staff, players, referees, or anyone else under the jurisdiction of the Scottish FA, shall not bet in any way on a football match.
"If he needs further clarification on that, he can call us."
Rangers top the League One table ahead of their visit to Excelsior Stadium to face Airdrieonians.
"I'm hopeful he can continue the good form that he's shown this season if he plays tomorrow," said McCoist of Black's possible involvement.
Meanwhile, Inverness midfielder Aaron Doran and Kilmarnock manager Allan Johnston say the guidelines regarding betting for players in Scotland are quite clear.
"Someone from the SFA comes into the club at the start of the season and tells us what we can and what we can't bet on and you're not supposed to bet on any Scottish football or really any football in the UK," Doran told BBC Scotland.
"We get told what we can and what we can't do so I don't think you should be doing it if you get told at the start of the season."
And Johnston added: "I think the players should know. The PFA have been in a number of times to stress upon the boys the rules on gambling; you can't do it in football so it's not worth taking the chance."
Partick Thistle boss Alan Archibald is concerned about the impact betting among experienced players may have on younger squad members.
"You've got young pros at clubs, they see the older pros that are there putting the coupons on and they just copy them," he said.
"I don't mind if they can do away with it all together and then everybody knows that there's just no gambling at all and everybody knows their place.
"It just takes maybe somebody putting a coupon on and, before they know it, they're spending all their wages on it.
"I would rather it wasn't the case at any club and that it was just banned. I'd be much happier as a person anyway."