Hibs fans use meeting to raise concerns over Pat Fenlon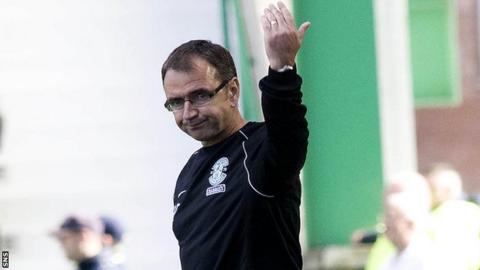 Hibernian fans showed they are losing faith in the current managerial team at a meeting with the club, according to a supporter representative.
The club issued .
But Steve Brockie, of Carlton Branch Secretary of the Hibernian Supporters' Association, said: "The guys who were there watch Hibs on a weekly basis.
"And we can't see how things can be turned around with these guys in charge of the club."
Brockie told BBC Scotland that chairman Rod Petrie had urged supporters to remain patient with under-fire manager Pat Fenlon.
"The fans who were there voiced their concerns over how the team was progressing on the park," said the Hibs fan.
"There was no doubting that the board and Mr Petrie have done a great job in terms of the Hibs infrastructure.
"We constantly underachieve: we've finished in the last couple of seasons 11th and 10th in the SPL. We've lost 5-1 in a final to our rivals and lost 3-0 in a final to Celtic.
"Coupled with the results against Malmo, you feel that the team is in decline. It has to be stopped now.
"Certainly, Mr Petrie and Mr Forsyth have been rattled by some of the comments last night. Looking at Hibs in the past six or seven years, they have underperformed as a club.
"Pat Fenlon has brought in seven or eight players in the summer. However, you have to question his tactics and nous when he's got guys like Liam Craig - who performed really well for St Johnstone last season - he's got him playing wide left.
"He's not a winger and there's so many things wrong with the team formation.
"They've got too many midfielders who are exactly the same and have no creativity, width or pace. They're pedestrian at times."
Meanwhile, Fenlon has played down the significance of Petrie's public support, insisting he has always had the chairman's backing.
"It's not relevant from my point of view, I have to be honest," said the manager.
"I've been at the club for 20 months and I've always had the backing of the club. That's the important thing.
"The chairman is a man of few words. We have a decent relationship. We meet every week and discuss what's going on at the club, not just what's going on on a Saturday.
"But the stuff on the pitch is at the top of the list and as a manager I know that you have to get that right. If you don't, the inevitable happens."