Rangers board plans to avoid EGM over director proposals
Last updated on .From the section Rangers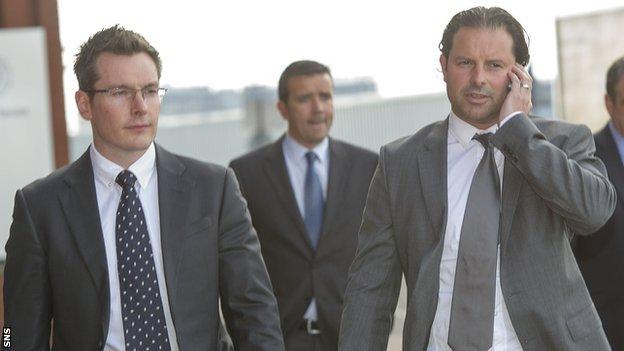 Rangers plan to avoid an extraordinary general meeting by "rolling the business" from the EGM into their annual general meeting.
A club statement says the board have received written agreement from that group of the "logic" of avoiding the cost and disruption of two meetings.
Rangers announced the developments to the London Stock Exchange.
The group of shareholders, which includes businessman Jim McColl, are seeking changes on the board, including the removal of chief executive Craig Mather, finance director Brian Stockbridge and Bryan Smart.
Additionally, they are keen on Paul Murray and Frank Blin becoming directors.
The board responded with openness to the prospect of Blin's appointment but have questioned the merits of other suggested resolutions.
McColl, in a statement, said: "We are aware that the company is due to have its first AGM in October and so, in the interests of saving the club expense and time, we have discussed with the board a proposal to combine proceedings with the resolutions we sought as part of a general meeting being followed by the 'normal' business of the AGM.
"To allow time to deal with the mechanics of combining the resolutions which would otherwise have come up at two separate meetings, we have agreed to give the company until close of business on Tuesday 27 August to agree the terms of the legal paperwork.
"In the meantime, we would encourage the board to make the changes that we believe are being demanded by the majority of stakeholders in the club."
Later, Rangers said on their website they had avoided the "damaging scenario" of convening two meetings and the "unnecessary extra expenditure" that would have been incurred.
The club also stated they intend to introduce "a proper and modern membership scheme".
"Fan representation on the board is not something this club should fear," the statement added.