Gareth Bale's Real Madrid move will boost Wales career - Symons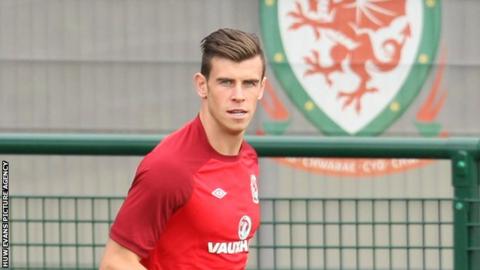 Gareth Bale's move to Real Madrid can help his Wales career, according to Wales assistant manager Kit Symons.
Tottenham and Real Madrid are in advanced talks over a deal for Bale.
The transfer has yet to be agreed but it could happen in the coming days with Bale, 24, seemingly destined to join the Spanish club.
"Having the world's most expensive player in the red shirt of Wales has to be fantastic for everyone," said Symons.
If Bale does move to the Bernabeu the transfer fee could eclipse the £80m world-record fee Real paid Manchester United for Cristiano Ronaldo in 2009.
Bale did not travel for Tottenham's 5-0 Europa League win over Dinamo Tbilisi in Georgia on Thursday because of a foot problem.
It is an injury that kept Bale out of most of Tottenham's pre-season programme and their at Crystal Palace.
But Symons believes Bale's recent appearance at Wales' recent friendly with the Republic of Ireland, despite being injured, shows the Cardiff-born player's commitment to his country.
"Gareth is very committed to the cause as we saw at the Republic of Ireland game, where he wasn't fit but wanted to turn up and be part of it," said Symons.
"We fully expect Gareth to be turning up for us and I am sure he would love to do that.
"Every game we have, when Gareth pulls that shirt on for us it is a big boost for everyone because he is such a fantastic player."
Bale joined Tottenham for £10m from Southampton in 2007 and scored 26 goals for the north London side last season.
Now he is on the verge of becoming the most expensive player in the football world, but Symons believes Bale can handle the expensive price tag.
"It will bring its own element of pressure but these top players - and Gareth is certainly one of them - thrive on the pressure," said Symons.
"I don't think it will be a problem for him at all.
"He is a very down to earth and level-headed lad and just wants to get out there and play football.
"When you are in that environment, the changing room is almost like a sanctuary for players. They are with like-minded people and soon settle in and get to know a few of the boys."
Symons also says Bale has the confidence in his own ability to excel at one of the biggest club's in the world and will revel on the Bernabeu stage in front of a capacity 85,454 crowd.
"It's there for all to see, he has a great confidence in his ability and he is going to be around other fantastic players as well," said Symons.
"He will thrive in that environment.
"I think he can [get better]... he had a phenomenal season last year and he is still young. He can get better and that is a scary thought really.
"That is what Real Madrid think and that is why they are prepared to invest this sort of money in him.
"They think of it as an investment and he is someone who will go up in value."
Kit Symons will be a guest on Sport Wales, Friday at 19:00 BST on BBC Two Wales