Wayne Routledge hails 'ruthless' Swansea after Ploiesti rout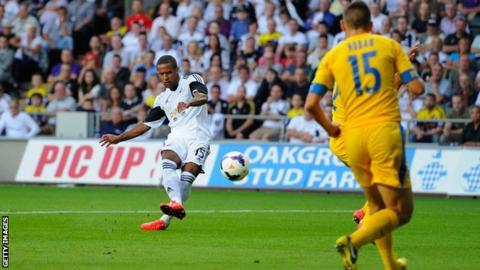 Wayne Routledge was delighted by Swansea City's growing ruthless streak after they claimed an impressive
The winger's two goals helped Swansea take control of their Europa League play-off tie and next Thursday's away leg in Romania should hold no fears.
"At times I think we were ruthless," Routledge said.
"There were times we could have scored more but to get five at home was a nice feeling."
Adding to Routledge's brace was a poacher's goal from Michu, an impressive chipped effort from substitute Alejandro Pozuelo and an own-goal by Ploiesti goalkeeper Peterson Pecanha.
Gheorghe Grozav scored a late consolation for the visitors with an eye-catching bicycle-kick, but the four-goal deficit should be too much for Ploiesti to overcome.
Swansea now have one foot in the draw for the group stage, which guarantees at least six more lucrative nights of European football.
"It's nice to get on the score-sheet but it's nicer to get a result like we did tonight, It stands us in good stead for the next leg," added Routledge.
"At the end it got sort of into a bar fight but it was nice to have the five goals by then."
Swansea captain Ashley Williams was disappointed to have conceded the late goal but was confident the Welsh side would complete the job in the second leg in Romania.
"It's obviously disappointing to concede a goal at the end but I think on the whole we were ruthless," Williams said.
"That's what we want to be a little bit more this season, just to try to finish teams off."
This season's Europa League is the Swans' first European campaign since the 1991-92 season and, while Williams admits the extra fixtures could make life difficult, he is determined to enjoy the experience.
"It's new for us so I imagine it's going to be tough and we're going to have to use more of the squad," he said.
"It's tough playing Thursday and then Sunday but we've enjoyed our time in Europe so far.
"We want to try to prolong that and see what happens if we get through this and into the group stage."